Saturday, April 19, 2014
Two ministers have spoken out against the attacks on Karpal Singh and dissemination of gory pictures of the accident involving the late DAP chairman and Bukit Gelugor MP.
Minister in the Prime Minister's Department Tan Sri Joseph Kurup said he was disappointed with a Barisan Nasional MP and a former Perkasa vice-president who both made insensitive statements about Karpal's death.
"I cannot accept statements such as these. It is very sad to see someone utter that sort of thing," Kurup told reporters in Kuala Lumpur today.
"You want to have political mileage, do not exploit the sad situation, and do not use religion.
"If you going to say something to make things even worse, better not say anything," he reportedly said.
Former Perkasa vice-president Datuk Zulkifli Noordin had, within hours of Karpal's death yesterday, tweeted that Allah had killed off Karpal who had rejected the implementation of hudud in the country.
BN's Langkawi MP Datuk Nawawi Ahmad had insulted Karpal by posting a picture of the veteran politician's blood-smeared face as he lay in his Toyota Alphard following the accident yesterday morning.
Along with the Facebook picture was a newspaper cutting on Karpal's opposition to the implementation of hudud in the country.
Nawawi had also posted a comment which read: "Siapa nak sambut cabaran karpal singh? Sila bagi nama he he." (Who wants to challenge Karpal Singh? Please submit your name.)
He was referring to the newspaper article which quoted Karpal as saying: "Mahu wujudkan negara Islam langkah mayat kami dulu – Karpal Singh." (Those who want to create an Islamic state can only do so over my dead body – Karpal Singh.)
Communications and Multimedia Minister Datuk Seri Ahmad Shabery Cheek also said social media practitioners should cease spreading Nawawi's pictures as they were extreme and uncivilised acts.
Expressing sadness and disappointment over the development of this undesirable culture, he said these acts were unethical.
"I was saddened when I saw pictures of corpses disseminated on social media. It is unethical and uncivilised to display these for viewing," he told reporters after visiting Paloh assemblyman Datuk Norzula Mat Diah of Kelantan who is under treatment at Raja Permaisuri Bainun Hospital in Ipoh, Bernama reports.
Ahmad Shabery said the people should understand the feelings of the families of the dead because accidents could happen to anyone, even themselves.
"I see that social media practitioners have gone overboard. They should adhere to (journalistic) ethics so that such good habits will help to nurture a good culture in society," he was quoted saying by Bernama.
Ahmad Shabery said legislation would check extreme acts, but laws also had limitations.
"We seem to be too hungry for freedom, but we do not know how to appreciate that freedom.
"We abuse the freedom that we have and, in doing so, we show that we are uncivilised. This is not condoned in Islam and other religions," he said. – April 18, 2014.
Friday, April 18, 2014
Musa Cerantonio, the third most 'liked' person by western jihadists in Syria, called for assassination of US politicians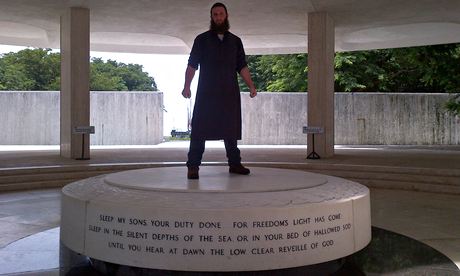 A radical Australian preacher revealed to be using social media to encourage acts of terrorism has had his Facebook page taken down following a Guardian investigation.
The California company confirmed it took action to remove the page following revelations that Musa Cerantonio, an Islamic preacher from west Melbourne, was urging about 12,000 subscribers to "assassinate" US politicians.
A second US radical is believed to have deleted his Twitter account after the Guardian and the BBC reported that he had twice praised the deaths of British Muslim fighters killed in Syria on the microblogging site.
Born into an Italian family as Robert Cerantonio, the Melbourne preacher was found to be the third most "liked" person by western jihadists in Syria. The discovery came from the groundbreaking work of King's College London academics who analysed the social media habits of 190 western jihadists fighting in Syria against president Bashar al-Assad.
In one post from 16 December, Cerantonio told his followers: "If we see that Muslims are being killed by the tyrant leaders of the USA then we must first stop them with our hands [ie by force]. This means that we should stop them by fighting them, by assassinating their oppressive leaders, by weakening their offensive capabilities etc … This is not something that is beyond us at all." .
Cerantonio, who attended a Catholic primary school, says he converted to Islam in around 2002 at 17, after a visit to the Vatican left him disillusioned with Catholicism. He was particularly disgusted by Michelangelo's artwork on the roof of the Sistine Chapel – calling it idol worship.
Sources within the Australian Muslim community say Cerantonio's faith journey took him to Cairo, where he became involved with a literalist interpretation of Islam. His status as a convert also won him a spot on Islamic satellite TV stations, and a global audience.
When in Australia, Cerantonio frequented classes and events at the Ummah United centre south of Brisbane and at a now-closed bookstore in Bankstown, Sydney.
Cerantonio said he currently lived in the Philippines and Egypt and only rarely returned to his native country.
Asked if he wanted sharia, or Islamic, law to be established in Australia, he told the Guardian: "Sharia law is to be established in the lands of Islam, it is a law for Muslims, not for non-Muslims … My advice to any Muslims in Australia is to migrate to Muslim lands, especially if they wish to establish sharia and live in a land ruled by Allah's law."
It is understood Cerantonio's Facebook posts violated the site's community standards on violence. The company, which says it works with law enforcement in the event of an urgent threat, added that the networking site was a place where beliefs, however abhorrent, could be shared.
The second preacher identified in the King's College report, Ahmad Musa Jibril – a Michigan convicted fraudster turned spiritual adviser – was revealed to be the most popular on Facebook with European and North American jihadists. He has more than 190,000 "likes" and on his now-defunct Twitter account Jibril was followed by 60% of foreign jihadists in Syria.
The Palestinian-American preacher spent a portion of his childhood in Saudi Arabia, where his father was a student at the Islamic University. He is understood to have completed high school, going on to get degrees in both Islamic sharia and US law.
In 2004 he was incarcerated on several fraud charges in the US federal government's Communication Management Unit in Terre Haute, Indiana – a facility sometimes referred to as Guantánamo North .
Before this, Jibril was known to run a website that government prosecutors in his fraud trial described as containing "a library of fanatically anti-American sermons".
In a document submitted to the court in 2005, US lawyers said Jibril, using his website AlSalafyoon.com, "encouraged his students to spread Islam by the sword, to wage a holy war [and] to hate and kill non-Muslims".
A poem published on the site before 2001 entitled Al-Jihad reads: "Why are you waiting go and thrust, in the lines of enemies and have them crushed. Hit them on the neck and send them to hell, if you're killed, you'll be received There well."
It continued: "Give them a knife and a bulletful [sic] of gun … Fight, fight, and Fight, it must be our aim."
After his release from prison in 2012, Jibril sent a message of condolence last December via a series of direct messages to a member of the family of a well-known dead British jihadist, Ifthekar Jaman.
Uploaded to the family member's public timeline, the messages read: "I didn't know him [Ifthekar] but when I read of him today it made me weep, may Allah be with you and may Allah grant him ferdous [the highest level of paradise]!
"Give my salam, love and respect to all the family. If I was there it would be a great honor to visit you all."
Twitter was not available for comment.
by Sumon Corraya
The rapists were four Muslim youths. The victim , 21, survived and reported her rapists , "I want them to go on trial". Student activist denounces : "When it comes to tribal women police do not want to deal with the case ."
Dhaka (AsiaNews) - More than 100 Christians and Muslims demonstrated yesterday in Dhaka against the gang rape suffered by a young Catholic woman. The violence took place on April 14 in Mohammadour , a district of the capital, during the celebration of the Bengali New Year. She was attacked by four Muslim boys . The victim, a 21-year old ethnic Garo , survived and reported them.
The young woman called Mary Thigidi Purnima and is native of the parish of Mariamnagar , in the diocese of Mymensingh . She works in Dhaka as a beautician in the "Person" beauty center.
On the day of the attack the victim was going to celebrate with a cousin when four Muslim boys accosted her, dragged her away and raped her. After the violence Purnima was able to call her brother in law, who was looking for her . After finding her, the girl filed a complaint against her attackers and one of them - Alif Ahmed - has already been arrested . The police is on the trail of the others.
The girl and her family do not feel protected: the relatives of the rapists continue to threaten them, warning them to drop the charges. But Purnima explains: "Many girls do not report rapes out of fear, but that's why so many perpetrators remain free. Instead I want them to be brought before the courts".
Among those present at yesterday's event were many Christian students, and even some Muslims. The protest was organized by the Bangladesh Garo Chatra Sangathan (BGCS), a Garo tribal student organization. The President Sabuj Nokrek told AsiaNews : " If the tribal women are raped , the police do not want to deal with the case. The don't investigate properly or provide security to the families of the victims. This worries us".
According to data released during the protest , since the beginning of 2014 at least nine tribal women have suffered sexual violence , and two of them were killed after the attack . In 2013, a total of 67 tribal women and girls were raped .
Karpal Singh – or just plain "Karpal" – was already a legend when I first started work as a young lawyer at Skrine&Co in the late 1980s.
There would be a frisson of excitement and drama for us juniors if Karpal was in town. We'd slip into the courtroom and watch him at work.
He was a tall, imposing man: impressive-looking and seemingly without fear as he tackled what were thought to be the "impossible" cases defending Barlow and Chambers, confronting D.P. Vijandran.
(Barlow and Chambers refer to the hanging in 1986 of two Australian citizens, Kevin John Barlow and Brian Geoffrey Shergold Chambers from Perth, for trafficking 141.9g of heroin. They were the first Westerners to be executed in Malaysia. Karpal had defended Barlow.
(D.P. Vijandran was embroiled in a sex video and Karpal had submitted the tape to Parliament in 1992.)
As I looked on, I always felt that while we were chasing "bill-able" hours and servicing corporate clients, he was making history.
By the time I'd started writing full-time, Karpal's importance had grown even further. He had become a staunch and unflinching advocate of justice as well as a secular Malaysia: consistent and questioning to the end.
I can still remember gate-crashing a large but enormously affable celebratory gathering of Pakatan Rakyat supporters in Puchong after the historic 2008 general election.
First, the crowd erupted as Teresa Kok arrived, providing her with a tumultuous welcome. As a certified DAP "darling" one wouldn't have expected anything less.
Minutes later, Karpal turned up with his family. Having not seen him for years, I was a little shocked by how much smaller he was physically – a result of car accident in 2005.
While diminished in terms of size he possessed a certain aura – calm and benign – sitting in his wheel-chair as the crowd all around him went wild – the enthusiasm as raw and excitable as anything Teresa had inspired.
Given that the crowd was almost entirely ethnic Chinese, I was eager to understand why he'd been so lionised and so I asked one of the guests.
She answered simply: "We love him because he represents all of us: rich or poor, Chinese, Malay or Indian. He is brave and honest."
Karpal's was truly a Malaysian life. His political journey began in 1974 after he was elected as the state assemblyman for Alor Star.
Later on, he clinched the Jelutong parliamentary seat in 1978, which he held until 1999 – until he was dubbed as the famous "Tiger of Jelutong".
He was also the state assemblyman of Bukit Gelugor from 1978-1990. Eventually, he was elected as the member of parliament for Bukit Gelugor in 2004 and successfully defended his seat in the 2008 and 2013 general elections.
As a politician, he was not free from controversy. Blistering in attack, he was the kind of man who called a spade a spade and then proceeded to hit an adversary over the head with the same spade.
In fact, even before his previous car accident in 2005 where he was paralysed and wheelchair-bound, Karpal was one of the most vocal opposition members, both inside and outside Parliament.
Back in the days when there were only a few rows of opposition benches and long before Nurul Izzah Anwar, Tony Pua and Rafizi Ramli had surfaced, Karpal was a dramatic presence enlivening and informing our public debates going head-to-head with likes of Tun Mahathir Mohammad and the then deputy prime minister Datuk Seri Anwar Ibrahim.
He spoke out strongly against the concept of Islamic state and the implementation of hudud laws. Whilst this was to strain relations between PAS and DAP it reflected a fundamental ideological difference that he was unafraid to tackle.
Whilst there were some who saw his steadfast refusal to accept hudud as "anti-Muslim" or "anti-Malay", the reality was that he belonged to a generation that was committed to a broader and infinitely more inclusive "Malaysian" identity.
Karpal suffered considerably for his courage and steadfastness. In 1987, he was arrested under the now abolished-ISA during Operation Lalang. Earlier this year, he was found guilty of sedition – a court decision which Karpal himself had calmly accepted.
Still, no one can deny his eagle-eyed focus on the truth as fought against injustice, shaping the political landscape.
In a Malaysia whose leaders increasingly cannot say what they mean – or worse yet, even mean what they say, the loss of his candour and sharp legal mind is a blow to the nation. – April 17, 2014.
Hours after the death of Karpal Singh, Muslims were told by the National Fatwa Council today they were not encouraged to use the phrase "Rest in Peace" (RIP) to a non-Muslim because the term had Christian connotations.
In a statement issued on its website, www.e-fatwa.gov.my, the National Fatwa Council said Muslims could express their condolences to non-Muslim families.
"Condolences can be expressed to a non-Muslim family as long as there are no religious implications," it said.
"Wishes such as 'I sympathise with what has happened to you' or 'we express our sadness at the loss in your family' are allowed.
"However, a Muslim is definitely not encouraged to wish a non-Muslim person 'Rest in Peace'," the council said.
The council said RIP was an assumption that the non-Muslim person would receive God's blessings.
"It is similar to the Latin prayer of 'May his soul and the souls of all the departed faithful by God's mercy rest in peace'."
The council said this sentence was a form of prayer regularly used by Christians, especially during the 18th century and regularly engraved on tombstones.
"From an Islamic point of view, a person who has died in blasphemy will not receive God's forgiveness and blessings," it said.
The council's statement also said the wish also depended on the intentions of the individual saying "RIP".
Early today, Karpal, the MP for Bukit Gelugor, died in an accident when the car he was travelling in collided with a five-tonne lorry near Gua Tempurung on the North-South Expressway.
Karpal, who would have turned 74 on June 28, was travelling from Kuala Lumpur to Penang to attend a court hearing scheduled for this morning.
The impact of the crash which took place about 1.10am killed the prominent lawyer and his personal assistant, Michael Cornelious Selvam Vellu, 39, on the spot.
Karpal's son, Ramkarpal, and the car's driver, C. Selvam, were injured. Karpal's Indonesian domestic helper was also injured and is in critical condition at Ipoh Hospital. – April 17, 2014.
As a mark of respect, Penang state government has decided to accord state honours to the late Karpal Singh.
UPDATED
GEORGE TOWN: Karpal Singh's funeral this Sunday morning will be accorded the Penang state honours, announced Chief Minister Lim Guan Eng here today.
"This means the state flags would be flown half-mast until the funeral day on Sunday.
"The state flag will be accorded to cover Karpal's casket.
"Finally a public ceremony will be held in Dewan Sri Pinang for the lay public to pay their last and final respects to Karpal.
"This is the last respect being accorded to a Penang MP and a statesman by the state government," Lim told a press conference at Karpal's house in Jalan Utama here today.
He said the state executive council decided this afternoon to honour Karpal, a son of Penang, a funeral with state honours.
Also present were Karpal's sons Gobind and Jagdeep Singh Deo, and Penang DAP chairman Chow Kon Yeow.
Chow has been appointed as the coordinator to accord the state honours for Karpal's funeral.
Gobind and Jagdeep later thanked the state government for according their father, a senior parliamentarian and DAP's leader, a funeral with state honours.
They also thanked leaders of various political parties, such as Deputy Prime Minister and Umno deputy president Muhyiddin Yassin, PKR de facto leader Anwar Ibrahim and PAS stalwart Mohamad Sabu, supporters and lay public for visiting and paying their last respects to their father.
Meanwhile Anwar said the loss of Karpal was irreplaceable.
Tribute tonight
The Parliamentary Opposition Leader revealed that he spoke to Karpal yesterday evening about his sodomy case appeal to the Federal Court.
Anwar said Karpal informed him that he would drop all his other work for next two days to concentrate on the appeal.
"He told me that he had 10 days to file the appeal. He told me not to worry and that he would," Anwar added.
Anwar said Karpal had always stood by the Permatang Pauh MP and his family, and committed to his struggle since 1998.
"He was passionate in his defence and never wavered from his position. He always exercised his full rights. He was an indefatigable fighter of justice," said Anwar.
DAP meanwhile announced that it had postponed all its programmes until after Karpal's funeral. However, programmes arranged by PKR and PAS would go ahead as scheduled.
Tonight's Refomasi 2.0 rally at Seberang Jaya would go ahead but Anwar indicated that it would be different than originally planned.
"We will pay our respect and tribute to Karpal. We will tell the crowd why Karpal must be remembered?" said Anwar.
The two leaders were like cats and dogs in Parliament, but Samy Vellu is deeply hurt with Karpal Singh's demise
PETALING JAYA: In the early 1980s, two fiery well known figures used to have explosive arguments in Parliament declaring themselves as Tiger and Lion, among other things.
The two were none other than former Works Minister and ex-MIC president S Samy Vellu and prominent lawyer and DAP diehard Karpal Singh.
One of the more memorable arguments in Parliament took place in 1982, when Samy Vellu told Karpal: "If you are a tiger (Karpal was dubbed the Tiger of Jelutong), then I am a Lion."
To this Karpal with his usual wit replied:"I am a Lion by birth (Singh means Lion in Punjabi).
Samy Vellu not to be outdone shot back:"Never mind you be the Lion because there are no Lions in Malaysia."
These were the kind of war of words between the two ever since anyone can remember.
But today, hours after Karpal perished in a motor accident, Samy Vellu has no other words but to say that the vocal lawyer cum politician was a great man who brought championed peoples issues.
"Karpal's demise is a big loss for the country and the people. He is a man who highlighted the peoples issue.
"In parliament, he was strong advocating the peoples issues. He also believed in the democratic process.
"I have worked with him…in fact we had clashed on numerous occasion. He raised valid questions and I answered. Although we were at odds in Parliament, there was mutual respect between us.
"He was not like other politicians who like to say that and this outside the Dewan (Rakyat). He is always consistent and believed in the cause," Samy Vellu told FMT when contacted today.
Repeating that Karpal's demise was a great loss to the nation, Samy Vellu said Karpal was a great leader who understood the pulse of the people.
"I will also be attending his funeral. I want to pay my respects to a friend whose loss will be sorely felt," said Samy Vellu.
The former DAP chairman and Bukit Gelugor MP died in a road accident at Km306.1 of the North-South Expressway, near Gua Tempurung, in Kampar early today, police said. He was 73.
Also killed in the 1.10am accident, involving an MPV and a lorry, was Karpal Singh's personal assistant Michael Cornelius, 39.
Karpal's remains would lie in wake until Sunday at his family home in Penang before cremation.
A director of a Tamil daily claims that 'Datuk Seri Guruji', a spiritual guru, bought a fake parapsychology degree from the US.
PETALING JAYA: K Saraswathy, the director of Tamil Malar, a vernacular daily, lodged a police report against a meditation center owner alleging that the latter had bought a fake doctorate degree in parapsychology from University of Mississippi, United States.
In the report lodged on April 14 at the Sentul district police station, the 45 year old lawyer claimed that V Balakrishnan or better known as 'Datuk Seri Guruji' the co-founder of Rajayoga Power Transcendental Meditation Center Sdn Bhd (RPT) had also misused the government's official emblem and Prime Minister Najib Tun Razak's name for his private programme.
"On Apr 12, when I was in my office at Jalan Ipoh, Kuala Lumpur, I received a pamphlet containing details of RPT programmes. And I was shocked where RPT used the government's emblem and prime minister's name to gain publicity," said Saraswathy.
"The government Acts clearly state that using government's emblem and nation's premier's name without approval is an offence, thus police action must be taken against RPT and the organising committee of the programme," she added.
Balakrishnan is said to be a master teaching his followers on how to harness spiritual energy (yoga shakti) for material and spiritual benefits.
However, he had come under heavy criticism in the social media for charging an exorbitant fee for his programmes.
Saraswathy said that her daily had written several articles against Balakrishnan before and due to that his followers created trouble at the daily's office in December last year.
She further challenged Balakrishnan to come out in the open to clear the air over his fake doctorate degree.
"We want police to investigate Balakrishnan and his meditation center for cheating the public by giving false information which will tarnish the government reputation," she said.
Sivarraajh takes offence at Mohd Noor's remarks about "big idols" standing in full public view.
KUALA LUMPUR: MIC Youth today questioned retired judge Mohd Noor Abdullah's soundness of mind when he said non-Muslims should not erect large religious sculptures where they would be in full view of the public.
The movement's chief, C Sivarraajh, said in a media release that the former Appeal Court judge must have been "out of his mind" when he made his remarks in a recent interview with the Malay Mail and Bernama.
Extracts from the interview have been widely circulated through social media and Mohd Noor has received brickbats from various quarters.
According to the Malay Mail, he complained about the statue of Lord Murugan in Batu Caves and that of the Goddess of Mercy outside a Buddhist Temple in Penang, saying: "When non-Muslims build such big idols, it hurts people's feelings."
Sivarraajh accused him of expressing a racial sentiment and said MIC Youth was "warning" him to stop doing so.
"MIC Youth feels disgraced with the manner former Appeal Court judge Mohd Noor Abdullah expressed his views," he said.
"As such MIC Youth warns him to stop passing racial remarks that interfere with the harmonious living of Malaysians.
"As a learned former judge, he should refrain from passing remarks that could give avenue for diversion and unnecessary brickbats from other religious practitioners.
"We live in a country that advocates love, peace and harmony. Such remarks could stir unnecessary racial sentiments."
The former Perkasa leader says that God had paved way for hudud to be implemented in Kelantan by taking away its chief critic, Karpal Singh.
UPDATED
PETALING JAYA: While the nation mourns, a former Perkasa leader rejoiced and said that DAP veteran Karpal Singh's death will allow hudud law to be implemented in Kelantan.
In a series of posting on Twitter, former Perkasa vice-president Zulkilfli Noordin said while the Kelantan government was struggling to implement hudud in the state with Umno' help, God had taken away Karpal, who is Islamic law's main critic.
"Hopefully, the move to implement hudud in Kelantan is successful. God willing, with Umno-PAS unity and Karpal's demise, I believe the things are made easier now." said the former PKR MP.
However, Zulkifli's tweets received public backlash, including from Youth and Sport Minister Khairy Jamaluddin.
"@zulkiflinoordin Shut up. Really, shut up," said Khairy.
Kuala Lumpur Bar chairman HR Dipendra described Zulkifli as coward for criticising a man who had just died.
"Zul Noordin shows his true nature: He is a coward and only cowards attack a dead man," said Dipendra.
Human rights lawyer Syahredzan Johan said it was time for people to name and shame such people for their rude remarks.
"More so when they are politicians. We must remember what they said, and hold it against them when they seek office again," said Syahredzan, via Twitter.
Karpal, 74, was killed early this morning in a car crash at 301.6km on North-South Highway near Kampar while on his way to Penang.
Also killed in the accident was his aide, Michael Cornelius Selvam Vellu, 39.
Karpal's driver is said to be critically injured, while his son, Ramkarpal, escaped with light injuries.
Karpal is known to be a fierce critic of hudud law being implemented in Malaysia, arguing that nation's constitution is based on secular laws.
He once famously said that hudud would only be implemented "over my dead body".
Meanwhile, PAS central committee member Dzulkefly Ahmad said Zulkifli' statement is doing "a great disservice" to Islam.
"It shocked us knowing that Zulkifli has come out with an insensitive remark, it is such as a great disservice to Islam.
"We PAS may have a lot of difference with Karpal, but we stand to give him respect, he is a towering figure in the nation he has served," said the PAS central committee member.
Dzulkefly also criticised the Perak police chief Acryl Sani Abdullah Sani for picking on traffic offences recorded by Karpal's vehicle right after his passing.
"They should be a bit more sensitive, and be gracious and benevolent to the passing man, because we all know sometimes MPs are caught in a mad rush to serve their constituencies, and unlike the minister, we don't have an escort team," he said.
Perak state assembly speaker and former MIC vice-president SK Devamany also denounced Zulkifli over his disparaging remark.
"The remark is uncalled for and an uncivilised one to be made against a great statesman. It goes beyond the spirit of nationalism and Islam," he said.
In later postings, Zulkifli heaped laurels on Karpal, saying he was one of the few who dared to take up cases against the government.
He also said that Karpal was generous in giving legal advise to junior lawyers and commended the veteran lawyer for taking up a lot of cases on a pro bono basis.
"His office serves almost like a welfare office to help the poor. To Karpal,your roar for the poor & your voice against injustice, either in Parliament or in court will be missed by many. Goodbye my friend!
"To my friend Gobind Singh Deo & family,do accept my deepest condolence.I am sure Karpal's name will be tinted in gold in the history of Malaysia!"
The Chief Justice should direct civil courts not to entertain conversion and custody cases previously
decided under the shariah system, said the Malaysian Syarie Lawyers Association.
It said this would prevent the apparent jurisdictional conflicts on such matters.
The group's president, Musa Awang, suggested Chief Justice Tun Arifin Zakaria issue the circular in accordance with the decision by the National Fatwa Council in 2009, which decided that minors are automatically Muslims and must be raised as such when a parent converts into Islam,.
"Article 12(4) of the Federal Constitution also stated that the religion of an individual below the age of 18 is decided by a parent, and that does not need to be amended," said Musa in statement to Sinar Harian.
Musa was responding to the Seremban High Court's decision in granting S. Deepa, a Hindu, the full custody of her two children, who were converted by their father N. Viran who now goes by Izwan Abdullah.
Izwan, had snatched their six-year-old son two days after the custody was awarded insisting that he too had full rights to the children based on previous Shariah Court order.
Authorities declined to pursue the Muslim convert father, citing the conflicting orders.
Musa insisted that the orders issued by both courts have equal standing.
Civil lawyers pointed out, however, that it was unconstitutional for the Shariah court to decide matters concerning non-Muslims.
PHOTO GALLERY
COMMENT
Seated in his wheelchair, still wearing his Parliament coat, Karpal Singh rings for his assistant, Michael Cornelius Selvam Vellu, who comes rushing into the room. "I'm thirsty," says Karpal apologetically to me, and Michael lifts up the can of a soft drink that was on the table with the straw on it. The then-Bukit Gelugor MP and DAP national chairperson took three sips of the drink. "This is how I depend on him," Karpal said, referring to Michael.
What was a serious interview up until that point in his office in Jalan Pudu in December 2012 had suddenly taken a lighter tone. It was probably light for Karpal - but it was unsettling for me and my colleague as he narrated his life in a wheelchair and his previous accident that had left him partially paralysed. I felt sorry for the man, but as he was telling his story, he wore a smile on his face, that effervescent, ever-present smile.
"Some people say the accident (in 2004) was orchestrated by my enemies. I had met Umno Youth folks at the airport before I flew to Penang, and it happened to be that the fellow whose car got into an accident with my taxi was an MCA guy. But I always say, if they wanted to kill me, they would have done so a long time. There are a million ways to kill me."
As fate would have it, Karpal did not die in the courthouse or in the Parliament, when he once famously told his rivals that "Singh is King!" He died in a road accident, and even in his final moments, he was still preparing for a court case.
But the past decade has been far from easy for Karpal.
"It hurts, quite a lot," he opens up about the state of his health. "When I lie down on the bed to sleep, I have to sleep straight, you know, one position. And then sometimes, middle of the night, you feel like turning on the bed to the side, but you can't. So I have ring the house helpers to help me shift to my left or to my right," he said.
Karpal depended quite a lot on his assistants and helpers to get through the day - as he was unable to do most of the things by himself- be it eating or drinking. In his state, he was only able to lift his fingers and most importantly, use his brains, his legal know-how, and his ferocious outspoken nature never died.
And using those elements left of him, Karpal served Malaysia for one more decade after his accident, admitting that working is what had kept him going till the end beckoned.
"If I think about it, then it gets worse. What is there to be done? I have what I have. My mind is still working, you know. So I have to keep doing what I do. That's the only way to live. You mustn't give up. You just do what you do best, and you live on," he said, clearing his throat.
The interview was conducted well into the night in his office, and he had just returned from Parliament duty and sandwiched speaking to us in between seeing clients. After entertaining us, he was due to attend to another client at that late hour. That was Karpal's dedication to both the legal profession and his parliamentary duty.
Never compromising for political expediency
"If I don't talk, who will?" asks Karpal, when queried about his consistent criticisms of Pakatan Rakyat and PAS at that time, which many thought was being detrimental to the coalition.
"Someone's got to do the talking, right? We are a party that was built on principles. And you can't let go of the principles once you are in power, once you are stronger. You stick by it, come what may. You need to uphold what you believe in," he said. That was the man - principled to a fault. He didn't do it any other way.
If I had bothered to ask him if he would ever compromise on his principles for political expediency - he would probably have stared me in the face and said, "Over my dead body."
Now, the question the entire nation has to face is - who will replace Karpal, or even come close?
Who will dare question Pakatan Rakyat's complacency after winning a mandate from the people?
Who will constantly remind DAP of the principles it was built on?
Who will continue reminding all the parties in Pakatan to adhere to common agendas?
Who will dare question Opposition Leader Anwar Ibrahim himself, from his own coalition?
Who will be brave enough to take up the monarchy to a legal challenge?
Who will be dedicated enough to spend the wee hours of the night looking through legal files, always looking for a new case?
The government, which had imprisoned him under the Internal Security Act (ISA), had attempted to jail him for sedition despite his condition. But as Karpal said before - he had even survived the ISA. And they will not get their wish to imprison the man a second time. Fate took him, before politics could.
"Ooh... Mahathir used to hate me," Karpal said with a sense of pride. "I must have that letter somewhere. He wrote me a letter once."
He asks Michael to dig into the sea of files on his desk, and at his book collection. He did not locate the letter and I did not read it. But there was no doubting that Karpal Singh was the only one who matched former premier Dr Mahathir Mohamad when it came to being a political enigma.
Political enemies they might be, and they thrived in their being adversariesr - and Karpal's brimming pride for having gone against Mahathir is well etched on his face.
"He hated me so much, that they took me out from prison and then put me back inside," Karpal laughed.
An inspiration for an 'insipid generation'
Goodbye, sir. Malaysia will miss you, but I will miss you just as much. For you were an inspiration for this insipid generation of mine - when we look for leaders who stood for principles and not position - we found you in the realms of Malaysia.
No one needs to praise you as our own Mandela or Gandhi. Karpal would have hated such comparisons. Karpal Singh is Karpal Singh, the Tiger of Jelutong, the "Singh is King". You have left behind a profound legacy that will be very difficult to emulate in today's political climate.
Karpal smiled when I introduced myself and told me my name. "Ah, my son's name is Ram, too. I have a Ram in my family," he said, smiling gracefully. That one moment, though it will be nothing more than a tiny speck of memory for him, will remain in my memories forever. We will remember you, sir. Or at least we will try to remind the country every now and then, of your struggles. Be in peace, and have a good sleep in the beds sewn for you in heaven.
As for Michael, the loyal servant who never once frowned despite having to be by Karpal's side almost 24 hours a day, may God grace you with all the goodwill for so humble a task as taking care of the man for us, so that he could serve us for almost one more decade after his accident in 2005.
And if you have been the washroom of Karpal's office in Jalan Pudu, a message will greet you inside the toilet.
"Please don't leave your submarine sinking after you are done. Do flush," the message read. That was the energy of Karpal Singh's office, inspired by him nonetheless. Even in those late hours, nothing breaks his spirit. There was a life to live, and he lived it. You taught us much about life as you did about politics, law and principles.
The tiger finally sleeps.
---
RAM ANAND is a member of the
Malaysiakini
team.
The late Karpal Singh was described as a "giant" in the legal fraternity by the Malaysian Bar which
represents 13,000 lawyers.

Bar president Christopher Leong said Karpal, who had been in practice for more than 40 years, was a towering Malaysian and a courageous man.

Leong remembered Karpal recently telling him that even if he was gone, there would be 100 Karpals to take his place.

"How I wish that were true as Malaysia needed Karpal and continues to need more people like Karpal," Leong said.

Karpal had made the remark last month soon after he was convicted of sedition by the High Court in Kuala Lumpur.

Leong said Karpal was of that special and rare breed of men who commanded respect for his leadership and courage in the values and causes he stood and fought for.

"He will be very much missed by Malaysians. The Malaysian Bar conveys its deepest condolences to Karpal's family," he said.

Queen's Counsel Mark Trowell and an observer in Anwar Ibrahim's sodomy and Karpal's sedition trials said Malaysia had suffered a terrible loss with the sudden demise of the legal eagle.

"He was truly a great Malaysian, not only because of his involvement in politics, but also as a lawyer," he said.

Trowell said Karpal was larger than life and was a man who never took a backward step whatever the cost to him personally.

"His life reflected the modern history of Malaysia and the events that have shaped it as a nation since independence more than 50 years ago," he said.

He said Karpal was very much an integral part of the nation's history and the title "Tiger of Jelutong" befitted him.

Former United Nations special rapporteur and former Bar Council president Datuk Param Cumaraswamy said Karpal's tragic death was not only a great loss to his family but to the legal profession and the nation.

"He stood tall among the top leading lawyers in the world," said Param who appeared in the legal team to defend Anwar in the recent sodomy case.

Param said despite his physical handicap from the previous accident, Karpal's courage and tenacity in the defence of his clients in court would long be remembered.

In politics, Karpal demonstrated equal fearlessness and often sacrificed his personal liberties.

"He once told me between law and politics, his first love was law. His passing away with the conviction for sedition is a fitting tribute to him, ranking him with Mahatma Gandhi," Param said.

Param added that Karpal's personal aide, Michael Cornelius Selvam Vellu, who died in the same accident should not be forgotten.

"Michael was a loyal, devoted aide whom Karpal depended much on," he said. – April 17, 2014.
The Star
Reflecting On The Law
by SHAD SALEEM FARUQI
We need to cool things down a bit to resolve the sad saga of legal conflict due to religious issues.
THE domestic discord between a fractious couple (which between it made 35 police reports against each other during the last two years) has metamorphosed into a national, religious and racial controversy that has besmirched the name of many public institutions including the courts and the police.
We need to cool things down a little bit, see issues with some detachment and accept that in every country where legal pluralism is allowed, some painful conflicts of jurisdiction are unavoidable. The law in every land is a maze, not a motorway. Its multiplicity, diversity and conflicting hierarchies create a thicket that is never easy to traverse.
In our federal system, federal laws clash with state laws and the legal scene is quite turbid.
At the state level, syariah enactments of one state conflict with enactments of another state and reciprocal enforcement of each others' judgment is an unfulfilled dream. Within the boundaries of a state, especially in Negeri Sembilan, Sabah and Sarawak, competition exists between custom and religion.
In Sabah and Sarawak, the rivalry between Native courts and Syariah courts is intense but is kept diplomatically discrete.
The most painful, unedifying and politically charged disputes are between civil and Syariah courts. They jar our landscape now and then and disturb our national harmony. What is not well known is that the clashes are not always between Muslims and non-Muslims.
Sometimes it is Muslims challenging the jurisdiction of the Syariah courts. For example in Latifah Mat Zin v Rosmawati Sharibun (2007) there was a dispute between the daughters of the deceased and his widow over the joint account of the husband and the wife. At contention was whether the civil High Court or the Syariah court has jurisdiction?
Occasionally there are objections to Syariah courts assuming jurisdiction on marriages contracted abroad between Muslims under foreign law.
Relating to non-Muslims, the most heart-wrenching dispute is about the religion of a deceased when there is information that prior to his death he had secretly converted to Islam.
Another tragic and intractable issue is the custody of children when one party to a non-Muslim marriage converts to Islam and opens the door to a jurisdictional clash.
This is what happened in the Deepa-Izwan case. The root cause of the jurisdictional conflict is Article 121(1A) of the Federal Constitution which states that the civil High Courts and inferior courts shall have no jurisdiction in respect of any matter within the jurisdiction of the Syariah courts.
Another problem is sections 3 and 51(1) of the Law Reform (Marriage and Divorce) Act (LRA) 1976. Section 3 states that the Act shall not apply to a Muslim. Section 51(1) states that if one party to a civil marriage has converted to Islam, the other party may petition the civil court for divorce.
Shockingly, this means that the converting party has no right to apply for dissolution of his marriage that was contracted under civil law.
As Izwan was not subject to the LRA, he rightly went to the Syariah court for dissolution and ancilliary relief – much to the detriment of Deepa whose hard-won civil court order for custody of her two children was short-lived when the ex-spouse in defiance of the High Court order forcibly removed one child from her custody.
This was not the first case of its sort but it has left a deep impact on our conscience. We need urgently to repair our frayed social fabric damaged by such disputes. My suggestions are tentative, subjective and open to revision.
First, the constitutional scheme of things in 1957, that the Syariah courts shall have jurisdiction only over persons professing the religion of Islam, should be reiterated.
Second, the Muslim volksgeist that their religious law should apply to them should, however, be respected. The radical solution that legal dualism should be abolished and there should be one uniform family law for all citizens is untenable. People have a right to live by their personal laws.
Even countries like the UK allow the Jews to apply their personal laws in defined fields.
Third, the federal government should engage with moderates of all communities and resist the cynical (and hitherto successful) effort to close down all discussion on "sensitive issues".
Fourth, the country as well as our official religion suffer disrepute when Islam is instrumentalised by some converts to gain quickie divorces and obtain easy custody and guardianship over their children to the detriment of the non-converting spouse.
Conversion is their right but they must respect the Federal Court ruling in Subashini a/p Rajasingam v Saravanana (2008) that a non-Muslim marriage does not dissolve automatically upon one party's conversion to Islam. The civil courts continue to have jurisdiction.
Fifth, the government had a few years ago taken initiative to draft new legislation to resolve inter-religious family disputes. The Bill met stern opposition from some Muftis and some members of the Conference of Rulers and was shelved.
It is time to revive the Bill after adequate consultation. Sweeping problems under the carpet is not doing our nation any good.
Sixth, the government should rely on Article 130 to refer to the Federal Court for the court's opinion all questions that have arisen about the working of Article 121(1A).
This article was inserted to resolve disputes between Syariah and civil courts but has brought in its wake new dilemmas. That's life and the law. Good laws often lead to undesired and undesirable consequences. We need to go back to the drawing board and begin anew.
> Shad Faruqi is Emeritus Professor of Law at UiTM. The views expressed are entirely the writer's own.
From Mohd Shukri Ishak
ANKARA, April 17 (Bernama) -- Malaysian businesses should seize the opportunities to expand and flourish in Turkey to take advantage of the growing bilateral ties, said Prime Minister Datuk Seri Najib Tun Razak.
At the same time, he said, Turkish businesses should reciprocate by increasing their investments and trade ties with Malaysia.
"The Prime Minister (Turkish Prime Minister Recep Tayyip Erdogan) and I are both strongly committed to bilateral partnership, and there is no clearer example of this commitment than the Malaysia-Turkey Free Trade Agreement (FTA), which we will witness later today," he said in his keynote address at the Turkey-Malaysia business luncheon hosted by The Union of Chambers and Commodity Exchanges of Turkey here.
Also present were Turkish Deputy Prime Minister, Ali Babacan, and Economy Minister Nihat Zeybekci.
Najib said he felt positive towards the two-way trade, adding that based on the current investment trend, Malaysia and Turkey were targeted to increase trade volume to US$5 billion in five years' time.
"In 2013, Malaysia's total trade with Turkey was over US$1 billion.
"Bilateral trade will increase significantly with the implementation of the Malaysia-Turkey FTA," he said.
The FTA would also strengthen economic and technical cooperation in areas such as small and medium enterprises, services, agriculture and food, healthcare, energy, e-commerce, research and development and the car sector, he said.
"I urge the business communities of both countries to take advantage of this agreement (FTA). Through this agreement we will meet the challenge set by Erdogan for our bilateral trade to reach US$5 billion," he said.
Najib, who is on a two-day working visit to the Turkey, said the Asean FTA and the Asean FTAs with Australia, China, India, Japan, South Korea and New Zealand meant that doing business with Malaysia was not just about a market of 29 million, but a combined market of three billion.
By embracing a pan-Asian strategy, Turkish businesses could leverage on Malaysia's strategic location and tap opportunities across Asia, he said.
Najib said Turkey and Malaysia also have much in common.
"Firstly, we both have the advantage of geography -- Turkey lies between Asia and Europe, while Malaysia sits between China and India, and at the heart of Asean;
"Secondly, both of us are trading nations, straddling trade routes stretching back to the Ottomans and the Malay sultanates; and,
"Thirdly, we are both modern, progressive Muslim countries, which see eye to eye on a range of important international issues," he said.
He said both nations needed to expand bilateral investments, which were currently somewhat lopsided.
"To date Turkish investments in Malaysia amount to US$126.1 million, whereas Malaysia's in Turkey are US$1 billion.
"Thus far, Turkish investments in Malaysia have mainly concentrated in the defence industry, supplying equipment to the Malaysian armed forces.
"But I am heartened that Turkish interests in Malaysia are growing. Malaysia is pleased to host Turkish manufacturing companies, notably Eyvap Sabun. Eyvap's initial investment in Malaysia of US$85 million has helped create 190 new jobs.
"Eyvap is also working with Felda Global Ventures to set up one of the largest oleo-chemical plants in Malaysia. We encourage more Turkish companies to locate in Malaysia to expand their businesses in Asia-Pacific.
"There are many opportunities for Turkish companies, for example, in the halal sector and the economic corridors in Malaysia," he said.
Najib said over the past few years, Malaysia has been working hard to enhance investments between the two countries.
Turkey's economic potentials had not escaped Malaysia's attention, he said.
He said Khazanah Nasional Bhd has significantly increased its presence in Turkey, investing some US$1 billion in healthcare, insurance and infrastructure sectors.
"Through its Turkey representative office, Khazanah planned to increase its investments to US$3 billion.
"When I was here in 2011, I was impressed with the competitiveness of the Turkish construction companies which had successfully secured numerous contracts in Russia, North Africa and Central Asia.
Najib said Malaysian construction companies were also well-regarded overseas for the quality and timely delivery of their work, particularly in the Gulf region and South Asia.
"The time is right, I am sure, for us to forge more collaborations in this area.
"We also need to enhance the awareness of our own products and services among our peoples. We should continue programmes such as the 'Malaysia Week' held in October 2012 in Istanbul, and the 'Turkish Products Exhibition' and 'Turkish Cultural Week' in Malaysia held in March 2012," he said.
He said more could be done to share both countries' cultural diversity in sports, food, music, art and heritage.
Meanwhile, speaking at a lecture entitled "Turkey-Malaysia Strategic Partnership in a Globalising Asia", at the Foundation for Political, Economic and Social Research, Najib said Malaysia and Turkey faced similar challenges.
"With the coming of modernity, we seek the right balance between opportunity and tradition. As we open our economies to outside investment, we work to secure a better standard of living for our people, and a brighter economic future for our nations.
"In the face of demographic and technological changes, we look to strengthen our societies and the democracy that they depend on," he said.
Najib said in an inter-dependent global economy, the benefits of greater co-operation extended far beyond Asia's borders.
"That is why I look forward to the completion of the Trans-Pacific Partnership, which will strengthen our ties with the wider world, the Regional Comprehensive Economic Partnership, which will bring three of the largest economies into the world's largest trading bloc and, of course, the FTA between Turkey and Malaysia," he said.
He said the FTA has been many years in the making.
"We hope that it unlocks a new era not just of trade between our nations, but of deeper economic integration, with Malaysia as a passage to Asia's emerging prospects, and Turkey as a gateway to the mature markets in Europe," he said.
Earlier, Najib participated in a wreath-laying ceremony at the Anitkabir Mausoleum. The ceremony pays homage to Mustafa Kemal Ataturk, the founder of Turkey's modern, secular republic.