Thursday, April 24, 2014
The MUJAO Islamist group in Mali has said that it has killed a French hostage captured in November 2012, "because France is our enemy." The French government said it could not confirm the claim, but would investigate.

A French foreign ministry spokesman said on Tuesday night that Gilberto Rodrigues Leal was feared dead after the claim from al Qaeda-linked fighters in Mali.

The MUJAO, a French acryonym which in English means "Movement for Unity and Jihad in West Africa," group told the French AFP news agency earlier on Tuesday that "he is dead, because France is our enemy."

Gilberto Rodrigues Leal was kidnapped in November 2012 while travelling in Mali and Mauritania. The MUJAO spokesman, Yoro Abdoul Salam, spoke to AFP by phone. When asked for more information like a time or place of death, or evidence such as a photo, AFP reported that Salam said "in the name of Allah, he is dead," before hanging up.

The government in Paris responded cautiously, but admitted to fearing the worst.

"The statement from MUJAO, responsible for his kidnapping, leads us unfortunately to believe today that Mr. Rodrigues Leal is probably dead, even though no material proof can allow us to confirm it," foreign ministry spokesman Romain Nadal said.

President Francois Hollande's office said that the man, who would be 62 now, had probably died several weeks ago owing to the "conditions of his detention." Officials had previously speculated that he might be dead, after a year passing with no sign of life or ransom demands.

"France will do everything to get to the truth ... and will not leave this act unpunished," the president's office said in a statement.

One other Frenchman kidnapped in November 2011 in the north of Mali is still missing and believed to be alive. Serge Lazarevic was seized by Mali's other major Islamist fighters, members of al Qaeda's north African group AQIM. French Foreign Minister Laurent Fabius had said on Sunday that Paris had indications he was still alive.

Both MUJAO and AQIM were heavily active in Mali's civil war, which also involved ethnic Tuareg fighters seeking independence for a region in northern Mali they call Azawad.

As the Tuareg rebels were increasingly sidelined by the Islamist forces in the north, and amid signs that the rebels were preparing to move on the capital Bamako, France agreed to dispatch troops to help the military leaders.

French soldiers helped push Islamist troops out of several northern towns, in a military mission involving around 5,000 troops at its peak. Though gradually withdrawing its forces, Paris plans to keep at least 1,000 troops in the short term, alongside a UN peacekeeping mission.

French forces last week freed five Malian aid workers held hostage by MUJAO since February.

- AFP, AP, Reuters
Wednesday, April 23, 2014
Saudi Gazette, Jeddah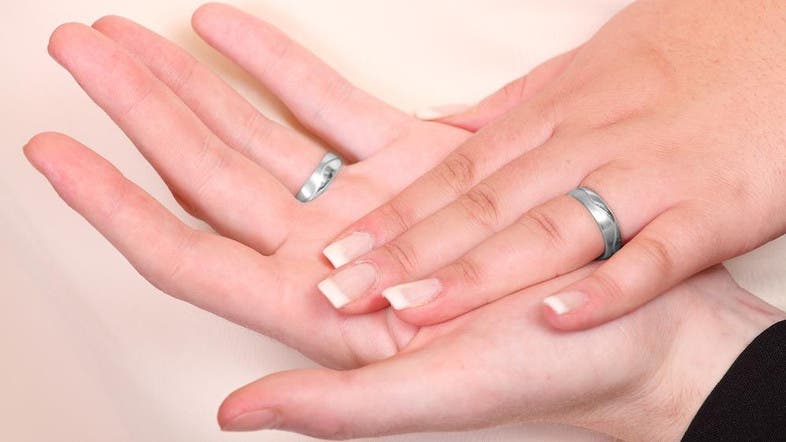 A Saudi woman is standing firm in her decision to marry a British man against her family's will. (File photo: Shutterstock)

A Saudi woman who has been barred from marrying a Briton by a Jeddah court has taken her legal battle to the Court of Appeals in Makkah.
A judge of the Jeddah General Court had initially refused to approve the marriage of the academic to a British aviation engineer, who is Muslim.
He made the ruling after the woman filed an adhl (male guardians preventing women from getting married) case against her family.
The judge based his decision on a saying by the Caliph Omar that he would only marry off women of "good breeds" to men of the same social standard.
Three judges at the Court of Appeals in Makkah will review and rule on her case in the next few days.
The father, who is objecting to his daughter marrying a foreigner, has asked one of his sons to represent him.
His daughter is standing firm in her decision to marry the British man.
She cited a number of Ahadith (prophetic sayings) by Prophet Muhammad (peace be upon him) asking families to allow their daughters to marry if they are satisfied with the ethics and religion of the suitors.
This article was first published in the Saudi Gazette.
Up to 234 girls are missing from a Nigerian school attacked last week by Islamic extremists - significantly more than the 85 reported by education officials, parents told the state governor today.
The higher figure came out a week after the kidnappings when the Borno state governor insisted a military escort take him to the town. Parents told the governor that officials would not listen to them when they drew up their list of names of missing children and the total reached 234.
Security officials warned governor Kashim Shettima that it was too dangerous for him to drive to Chibok, 80 miles from Maiduguri, the Borno state capital and birthplace of the Boko Haram terrorist network blamed for the abductions.
State education spokesman Musa Inuwo Kubo and the principal of the Chibok Government Girls Secondary School initially said that 129 science students were at the school to sit a physics exam when the abductors struck a week ago.
Twenty-eight pupils escaped from their captors between last Tuesday and Friday. Then another 16 were found to be day scholars who had returned to their homes in Chibok before the attack. That left 85 missing students, according to school officials.
The latest confusion comes after the military reported last week that all but eight of those abducted had been rescued - but then retracted the claim the following day.
Security sources have said they are in "hot pursuit" of the abductors, but so far they have not rescued any of the girls and young women, aged between 16 and 18.
Parents and other town residents have joined the search for the students in the Sambisa Forest which borders Chibok town and is a known hideout for the militants.
The kidnappings are believed to have been carried out by Nigeria's Islamic extremist rebels, known as Boko Haram.
Boko Haram - the name means "Western education is sinful" - is violently campaigning to establish an Islamic Sharia state in Nigeria, whose 170 million people are about half Muslim and half Christian.
It has been abducting some girls and young women in attacks on schools, villages and towns but last week's mass kidnapping is unprecedented. The extremists use the young women as porters, cooks and sex slaves, according to Nigerian officials.
Tun Dr Mahathir Mohamad should be careful before making statements about shariah law because it could lead to Islam being viewed in a negative light, the Muslim Youth Movement of Malaysia (Abim) said today.
Abim president Amidi Abdul Manan said the country's longest-serving prime minister should be more careful about giving his views on issues related to shariah.
Amidi was referring to an interview on Astro Awani featuring Dr Mahathir on April 17, regarding the implementation of the Shariah Criminal Enactment 2 in Kelantan.
Amidi said Dr Mahathir had said it was unfair if different punishments were meted out to criminals for the same crime as it could cause confusion.
Dr Mahathir had given an example that many Muslims would be handicapped if their hands were cut off for stealing.
However, if non-Muslims were caught for theft, they were sentenced to two months' jail, a far cry from having their hands cut off.
"Dr Mahathir appears to want to portray Islamic laws as being heavy, illogical and cruel."
Amidi said Dr Mahathir should understand that under hudud, the burden of proof was based on the principle of "beyond the shadow of a doubt".
"This is far beyond the principle of 'beyond reasonable doubt' (in secular law) and at the same time, guarantees the rights of the accused.
"At the same time, it is also a warning and education to society. The beauty of Islamic law lies in the court process, proof and its administration," Amidi said.
He said Dr Mahathir's statement, which focused on the punishment meted, could create a negative perception towards hudud.
Amidi also took umbrage at Dr Mahathir's statement that punishment for adulterers was not contained in the Quran but only in the Hadith.
"It is clear that Dr Mahathir's statement is confusing and an attempt to deny that punishment for adulterers was not part of Islamic penalties.
"Dr Mahathir is also questioning the position of the Hadith as the next source of penalties meted out after the Quran.
"The Hadith is clearly the second source of penalties after the Quran with a firm commitment from Muslims about our undivided loyalty and obedience.
"So any confessions, admissions or behaviour is a manifestation of the Quran," Amidi said.
Abim said it was better if Dr Mahathir kept his thoughts on hudud to himself.
"This is for the good of Islam, as issuing statements which were inaccurate and wide off the mark merely puts the religion in a bad light.
"While Abim respects Dr Mahathir's past efforts to promote and lift Islam to greater heights, his recent comments are dangerous and confusing."
It is better if Dr Mahathir retracted his comments and statements, said Abim.
The deputy president of PAS Mohamad Sabu in commenting about the late Karpal Singh's death and defending him said it was Dr Mahathir who had insulted the religion by belittling hudud, or the shariah punishment for serious crimes, adding that Karpal had never insulted the Islamic laws but merely defended the Federal Constitution.
"I am perplexed why Muslims react this way when it was Muslims themselves who insulted hudud, such as the statement by the former prime minister that if hudud was implemented in Kelantan, many Muslims would lose their limbs," Mohamad, better known as Mat Sabu, told The Malaysian Insider in a recent interview.
"Karpal had never insulted (hudud). He had only said that it was against the Constitution," said Mat Sabu.
Mat Sabu said he could not understand why Umno leaders who had come out strongly in opposition to PAS's plan to implement hudud in Kelantan had kept silent over Dr Mahathir's remarks.
"Why is it that when Muslims insulted hudud, I never heard any sharp comments from Umno leaders and the muftis?" – April 22, 2014.
Jamil Khir Baharom, Minister in the Prime Minister's Department in charge of Islamic affairs, has reminded Muslims to show respect for the dead of other faiths.
"As humans we should respect one another... it is proper in matters pertaining to death that we respect one another in order to safeguard good relations," Jamil told reporters today.
He said this when asked to comment on the derogatory remarks by BN's Langkawi MP Nawawi Ahmad and and former Shah Alam BN candidate Zulkifli Noordin
(right)
on the death of the DAP's Karpal Singh.
Jamil refused to comment specifically on these remarks, saying he had not seen what they had posted on social media.
Nawawi has since apologised and expressed regret for his Facebook posting, while Zulkifli changed his tune and commended Karpal's legal prowess.
Asked if action should be taken against Nawawi and Zulkifli - who were widely vilified for their remarks - Jamil reiterated that he has not seen the postings and that "it is also not my responsibility".
On April 17, following Karpal's death in an early morning road accident, Nawawi had
posted a collage
of Karpal's body, alongside a news report quoting Karpal's comment that the implementation of an Islamic state in Malaysia would only be possible "over my dead body".
However, he
apologised
last Sunday and went on to credit Netizens for having helped him see the error of his ways. He also explained that the posting had been a private one.
Zulkifli
said
"Allah made Karpal die" because he was against the implementation of hudud.
A travel association wants to know why the biometric requirement for Indian visa applies only for Malaysians.
PETALING JAYA: Malaysian Indian Tour and Travel Association (Mita) submitted a memorandum to the MIC today urging the party to intervene to abolish or postpone the biometric requirement for Indian visa.
The memorandum was handed to MIC secretary-general A Prakash Rao this afternoon.
Mita's Special Task Force chairman A Sevaguru said the association had received negative feedback from the Indian community on the new system.
"The new system requires all applicants to be present in person at the Indian Visa Centre to have their biometric samples taken," he said.
Sevaguru said Malaysians planning to go to India would find it difficult to travel to the city centre because many of them were living far away.
"The tourists will incur additional transport expenses to travel from rural areas to the city. They will also be forced to take leave from work," he said.
Sevaguru also asked why the Indian government was only introducing the biometric system for Malaysia and not other countries.
The Indian government introduced the biometric visa for all Malaysians on April 1.
Under the new system, visa applicants will be identified by using fingerprint, iris scan and photo.
The Child Act does not distinguish between perpetrators who are family members and strangers.
PETALING JAYA: The police have the power to arrest without a warrant if a child's life is in danger and the Inspector-General of Police's (IGP) statement that a father does not kidnap his son is astonishing, said Women's Centre for Change (WCC) Advocacy officer Joshua Teh Honguan.
Teh said the police could do so under the Section 110 of the Child Act.
Muslim convert Izwan Viran Abdullah abducted his six-year-old son, Mithan, from his Hindu mother, S Deepa, on April 9 following the Seremban High Court decision to grant custody of their two children to the wife.
"The safety and well-being of two children is at stake as long as IGP Khalid Abu Bakar refuses to take any action against Izwan for abducting his son," he said in a press statement today.
Teh said the abduction of children should be given the highest priority and urgent action must be taken.
"The children must be protected from harm as much as possible," he added.
Teh said the IGP was ignorant of the law when he said "a father doesn't kidnap his child".
"The Child Act of 2001 does not distinguish between perpetrators who are family members and strangers.
"The UN Convention on the Rights of the Child, of which Malaysia is a signatory, makes it an obligation to protect the interest of the children," he said.
Another advocacy officer Melissa Mohd Akhir urged the police to look into the well-being of Mithran.
"The child's welfare and well-being is a priority and the police should investigate Mithran's emotional and physical status," she added.
Deepa is now in hiding for fear of Izwan coming back to kidnap her nine-year-old daughter, Sharmila.
Opposition figures say the US President will pressure Putrajaya to sign the controversial TPPA.
PETALING JAYA: Politicians associated with the parliamentary opposition have called for a public protest against US President Barrack Obama's visit to Malaysia, saying it may result in more pressure being piled on Putrajaya to sign the controversial Transpacific Partnership Agreement (TPPA).
Leaders from Parti Sosialis Malaysia (PSM) and Pakatan Rakyat said today that Obama was coming to seek progress on the TPPA and would make it hard for Prime Minister Najib Tun Razak not to sign the trade pact.
PSM treasurer A Sivarajan said in a press release that the US might even team up with Japan to pressure Malaysia.
"Obama is visiting Japan before Malaysia," he said. "If he can do a deal in Japan, then the rest of the TPPA will probably be concluded quite quickly.
"With Japan on his side, Obama could threaten Najib that Malaysia will lose out if it still puts forward sensitive issues in the TPPA negotiations."
He also said Obama, who is arriving this Saturday, might capitalise on the disappearance of Flight MH370 and the kidnapping case in Sabah to press its case.
"The US might offer security enhancement as a trade-off if Malaysia compromises on its red lines in the TPPA. The US regime has always used trade and security hand in hand to twist arms of nations to accept its economic hegemony
"PSM fears that the weak Najib Tun Razak would submit to Obama's request."
Sivarajan urged Malaysians to "rise in protest" against the TPPA.
"The rakyat will have to send a clear message to Obama that the minority BN government does not have the mandate to conclude the TPPA when Malaysians are saying no to TPPA," he said.
Klang MP Charles Santiago of DAP said Obama and Japanese Prime Minister Shinzo Abe would dictate how far the TPPA could go.
"If Abe make some compromises and allow the Americans to have better market access to Japan, Obama will definitely bring that to Malaysia and push hard for Malaysia to accept TPPA," he told FMT.
He urged the government to stand firm and agree only to terms that would benefit Malaysia.
"Malaysia should only sign a trade agreement that favours Malaysia, not one that compromises our market access and holds the government to ransom," he said, referring to the proposed investor-state dispute tribunal under the TPPA.
Sepang MP Mohamed Hanipa Maidin of PAS said Malaysia had lost its best opportunity to voluntarily exit the TPPA negotiations and was now being cornered to sign the pact.
"When you have the opportunity to withdraw, you should withdraw and listen to the voice of people," he said in an interview with FMT.
"With Obama's visit this weekend, TPPA will be a done deal.
"We don't have a level playing field with the US. It is very difficult to say no in front of a superpower."
Among other things, the TPPA seeks to extend medicine patents, strengthen intellectual property rights, allow participating counties to have better market access to one another and establish an international investor-state dispute tribunal.
Umno can choose to work with PAS on hudud as the Islamic party delivers them more seats than many BN component parties combined.
COMMENT
PAS has until June to table its private member's bills in parliament to permit the Kelantan state government to implement hudud, but political parties from both divides are already agitated.
Pakatan Rakyat for one is definitely worried that the Barisan Alternatif episode in 2001 would recur.
Back then, DAP had to break ties with PAS due to the Islamic party's insistence to push its Islamic agenda.
The ups and downs in politics saw DAP and PAS reeling back to the same table only after the opposition scored a breakthrough to deny BN its two-third majority in the 2008 general election.
Since then, with the growing number of progressive leaders in PAS and political pragmatism, PAS has toned down its Islamic appeal. But hudud remains a thorn in Pakatan's flesh.
But the decisive moment will arrive in the coming months. Should PAS be able to table its bill and get it passed in parliament, DAP would have no choice but turn its back on PAS.
The fallout between the two will spell an end of Pakatan Rakyat coalition if the bill is passed. Nevertheless till then it is still safe.
Umno holds the trump card
This issue could bring a similar disaster to BN too.
Of late, Umno ministers like Jamil Khir Baharom and Razali Ibrahim have indicated that they are willing to work with PAS to allow Kelantan to impose hudud.
Going by the words of Razali, the deputy minister in Prime Minister Department, PAS can even count on all Umno lawmakers "to vote for the bill".
Even progressive Umno leaders such as Tengku Razaleigh Hamzah and Shahrir Samad said they are open to PAS tabling the bill.
Umno's statement revealed a stark reality in today's politics. First, Muslim lawmakers are duty bound by religion to support hudud, regardless which divide they are in.
More importantly, Umno can forsake most of its BN colleagues in place for PAS and still retain federal power.
Umno controls 88 seats in Parliament, whereas PAS has 21. With the help of Sarawak-based Parti Pesaka Bumiputera Bersatu (PBB), which holds 14 seats, Umno can still form the federal government and have representatives all over the country.
On the contrary, other BN component parties are pretty much dependent on Umno to cling on to power.
MCA, MIC, Gerakan, Parti Bersatu Sabah and the other East Malaysia parties combined command only 31 seats. Even if they were to join forces with DAP and PKR they will still fall short of coming into power (99 seats).
As such Umno holds the superior bargaining power. It can create a major paradigm shift in politics in Malaysia if it decides so.
MCA, Gerakan dousing the fire
MCA, meanwhile hopes that Umno would see through PAS' tactics and stands its ground.
"PAS' position is very clear, it only wants to trap Umno (with the bill). All this while they have been calling Umno infidel, now they suddenly turn to Umno for favour as if they are so sincere," said MCA deputy president Wee Ka Siong.
PAS wants to look good among the traditional Malays, he told FMT, while DAP is opposing it because it cannot afford to lose its Chinese votes.
As such, he urged Umno to be smart and distance itself from the bill since it is mooted by the opposition.
"This is entirely a Pakatan internal affair. They cannot sort it out among themselves, let them fight and we should just watch at the side.
"I hope Umno will stick to the Federal Constitution, this was agreed upon by all parties since Independence," he said.
Agreeing with Wee, Gerakan president Mah Siew Keong said his party would try its level best to convince Umno on the problems of hudud laws, should the bill be heard in parliament.
"A parallel legal system for Muslims will create a lot of conflicts in a multi-religious country like Malaysia, for example, in criminal cases involving Muslims and non-Muslims," he said.
Both MCA and Gerakan have said their MPs would definitely vote against the bill.
The bill could have far-reaching impact on the nation, changing the way justice is delivered as well as the political landscape.
Anyways, it could also end up like many other private member's bill which never saw the light of day in parliament.
Leven Woon is a FMT team member.
(Astro Awani) – The Muslim Youth Movement of Malaysia (ABIM) is concerned with the statement made by Tun Dr. Mahathir Mohammad in regards to the implementation of the Kelantan Syariah Criminal Code Enactment II and has asked for the former Prime Minister to retract his statement and to repent.
"Tun Mahathir as a respected leader of an Islamic country should be more careful in voicing out his opinion in matters relating to the syariah law," said ABIM president Amidi Abdul Manan in a statement.
He was referring to a statement made by Dr. Mahathir published by various media including Astro AWANI on Apr 17.
In his statement, Dr Mahathir urged the Kelantan government to re-evaluate its plan to implement the syariah criminal law hudud and qisas in the state by emphasising on justice.
Dr. Mahathir said hudud and qisas emphasised on the types of punishment and not about serving justice.
He said the punishment also varied for a Muslim and a non-Muslim.
Using theft as an example, Dr Mahathir said that a Muslim who steals would have his hand chopped off while a non-Muslim will only be sent to prison.
"Fair or not?" asked Dr. Mahathir.
According to Amidi, Dr Mahathir's statement could create confusion where "it may seem that an Islamic punishment is unreasonable and cruel".
He explained that the burden of proof under the hudud law is tougher compared to the criminal law under the civil system.
"The beauty of Islamic laws lies in its trial, justification and management," added Amidi.
ABIM is of the opinion that the statement made by Dr. Mahathir emphasising on the punishment could create negative perception towards the hudud law.
It also said that the resistance showed by the Barisan Nasional (BN) and Pakatan Rakyat leaders may be due by the statement made by Dr. Mahathir.
The Kelantan state government took the step in response to the call made by the Minister in the Prime Minister's Department Datuk Seri Jamil Khir Baharom at the Dewan Rakyat recently where he said the Federal government is ready to support any state which aims to execute the hudud and qisas law.
The Bill is expected to be tabled at the Dewan Rakyat in June.
The technical committee of the Kelantan Syariah Criminal Code Enactment II is expected to provide explanation on the bill to all members of parliament before the tabling of the Bill.
DAP secretary-general Lim Guan Eng had earlier stated that the party's stand on the implementation of the hudud law has not changed and he does not want the Kelantan government's move to be exploited by BN.
Meanwhile, PAS president Datuk Seri Abdul Hadi Awang had stressed that it would continue implementing the hudud law despite being opposed by Pakatan Rakyat as it "does not have an agreement with DAP and PKR" to not implement the Islamic law.
Despite 85 pages of rhetoric, the Court of Appeal's written judgment (the "Judgment") convicting Datuk Seri Anwar Ibrahim of sodomy has failed to establish the only corroborative evidence of the charge – the DNA evidence.

This is a case of one man's word against another, with no eyewitness to the incident.

Without establishing the DNA evidence beyond reasonable doubt, the Court of Appeal has no business to overturn the High Court judgment acquitting Anwar on ground of doubtful integrity of the DNA samples.

The crucial question to ask is: have the samples become vulnerable to tampering after the sealed plastic bag containing individual receptacles holding the samples was cut open by the investigating officer without authority and kept for prolong duration before delivering them to the chemist?

The prosecutor said no, reason being that the individual receptacles were also sealed, hence, the samples were protected.

Sample tampering irrefutable

But the catch is: while the plastic bag which was heat sealed was tamper-proof, the seals to the individual receptacles were not tamper-proof.

Australian forensic pathologist Dr David Wells testified that the seals to the receptacles could be removed and resealed based on the materials used and the manner of sealing, after he had examined them.

Appeal Court judges of Datuk Balia Yusof Wahi, Datuk and Datuk Mohd Zawawi Salleh, who took the highly unusual step of appending their signatures to one single written document, dismissed Dr Wells' claim by saying "he merely looked at the containers in court and gave his opinion solely from the manner in which these containers were sealed and the type of material used as seals. That was merely his opinion pure and simple". (para 121 of the Judgment)

It was, of course, Dr Wells' opinion. What else could he do other than expressing an opinion? If the seals were not readily removable, why didn't the prosecution refute his claim? As a matter of fact, according to Anwar, who saw the receptacles in coAziah Aliurt, these seals consisted of only "ordinary and easily removable tapes and easily removable KL Hospital paper seals" as stated in his statement in dock.

Is that the reason Dr Wells' testimony was not challenged in court? Would he have been let off the hook if in fact the claim was false, knowing the critical importance of the issue?

And why did Jude Pereira take the reckless step of cutting open the permanently sealed plastic bag? He said he wanted to put the receptacles into individual envelopes and re-label them. But that explanation was obviously phoney as rightly pointed out by High Court judge Datuk Mohamad Zabidin Mohd Diah for the simple reason that each of the receptacles had already been clearly labelled by the hospital doctors and Pereira's mission was merely to deliver them to the chemist withoMohamad Zabidin Mohd Diahut any input of his own.

Shockingly, despite the opening of the plastic bag had opened the gateway for meddling with the samples in the unsecured receptacles, the judges declared such unauthorised action as not amounting to tampering with the samples, even repeating Pereira's incredible claim that he was merely following standard operation procedure (para 85).

Talking about SOP, is it also SOP to place the samples in Pereira's personal steel cabinet for 42 hours instead of the police freezer, which was a beach of police standard practice, as well as defiance of KL Hospital forensic pathologist Dr Siew Sheue Fong's strict instruction that the samples be kept in freezer?

Why have the judges completely omitted to mention the defence claim that such prolong storage under room temperature would have damaged further the already much degraded samples?

Being a senior police officer familiar with forensic investigation, Pereira must have known that his reckless beach of discipline in his mishandling of the samples could fatally damage the integrity of the chain of custody as well as the quality of the DNA samples, both of which are of vital importance to the prosecution case.

Then why did he still do it? What was it so compelling that he had to take such risks? Why did he keep the samples to himself for 42 hours? If he was not up to something sinister, what was he up to?

Dubious DNA samples

Could that explain the miraculous phenomenon that the these samples were later found to have suffered no degradation at all, despite being retrieved 56 hours after alleged sodomy and stored for another 42 hours under room temperature, something unheard of?

The two Australian experts held the view from their long careers that semen collected 36 hours after ejaculation could hardly be successfully tested for the sperm's DNA due to degradation.

DNA expert Dr Brian McDonald testified from his observation of test reports handed to him that the profiles of DNA tests for various samples taken from the rectum including those showing DNA of Male Y (which prosecution claims to be those of Anwar) showed no evidence of degradation.

This contradicted with the samples' history, inferring that they might not be the same samples that were retrieved from complainant Mohd Saiful Bukhari Azlan's rectum by the hospital doctors 98 hours earlier.

In addition to such contradictions which cast serious doubt over the credibility of the DNA findings, the two Australian experts also pointed out many discrepancies, deficiencies and flaws of the chemist's DNA reports and hospital doctors' examination reports, including the exposure of the puzzling presence of DNA of multiple people extracted from Saiful's rectum, which the chemist have overlooked, compounding the crisis of confidence in these reports.

These are, of course, serious challenges to the prosecution case, which stands or falls on the DNA evidence.

Slamming of experts childish

But instead of taking these Australian experts' opinion head on with equally professional counter argument, the judges seem to have found a short cut by resorting to name-calling to devalue the Australians' testimonies while simultaneously enhancing the status of statements made the government's professionals.

Thus, the Australians have become "armchair experts" who have no practical experience (false, of course) to lend credibility to their argument, while the government chemists have "impeccable credentials" with competence in both the academic and practical fields.

The judges even went to the extent of concurring with lead prosecutor Tan Sri Muhammad Shafee Abdullah's submission that the Australians' evidence were "speculative and theoretical if not hypothetical, thus lacking in probative value" (para 142).

In contrast, the evidence of the two local chemists was described as factual and based on their own analysis of samples.

Then, using the premise of "lacking in probative value", the judges in one sweeping stroke, rejected the Australians' critical testimonies on all the critical issues, which are sample tampering, doubtful DNA reports and penile penetration (para 150).

Presto! Problem solved! The Australians' unfavourable testimonies are set aside in favour of the affirmative ones submitted by government professionals. The prosecution case is thus saved.

But what is the truth?

Dr Wells, a forensic pathologist, specialises in sexual assault cases. He is head of Clinical Forensic Medicine at the Victorian Institute of Forensic Medicine, Associate Professor in the Department of Forensic Medicine at Monash Unviersity, Member of the Advisory Panel – National Institute of Forensic Science, Member of the International Editorial Board of the Journal of Clinical Forensic Medicine.

He has worked with World Health Organisation in establishing medico-legal services for victims of sexual violence in developing countries. He has written several books and articles on sexual violence and awarded the Order of Australia Medal. He has testified in all levels of courts where his testimonies have been accepted.

Dr Bian McDonald, holding a PhD in pathology, is a consultant molecular geneticist. He is a member of the Australian Forensic Science Society, member of the Australian Biomedical Society and served as committee member of the Human Genetics Society, a director of both DNA Consults and Molecular Genetics for the Sonic Clinical Institute. He was also a head geneticist officer in New South Wales. He has written books, papers and articles on the subject of DNA, a list of which fills up five pages.

Clearly, the above credentials speak for themselves, and show how utterly irresponsible is the act of rejecting those expert opinions en bloc with the cavalier and childish comment on those evidence being "mere opinion, speculative and theoretical", which actually reflects the shallowness of the writer of the Judgment, whoever he is.

Penile penetration

On the subject of anal penile penetration, this is another major flaw of the prosecution case. All the four doctors who had examined Saiful had reported no sign of penetration, which contradicted the latter's testimony that the "fast and furious" act had caused him pain.

Though the three government doctors later changed their tune, however, their revised views were based on the subsequent report issued by the chemist, who claimed the presence of semen of "Male Y" in Saiful's rectum.

Such revised view had, of course, zero value, as the doctors' report must be based on their own observations and not on subsequent reports issued by others.

Anwar's statement in the dock

Was Anwar a coward, scared of being cross-examined in the witness stand as insinuated by the judges, when he chose to give an unsworn statement in dock as his defence?

Anyone who has read his 9,000-word statement which took him an hour and 20 minutes to deliver in court, could not have failed to be moved by the endless series of injustice he has suffered and his cries of despair that he would ever receive justice in the court.

The long litany of unjust treatment he had received at every step of his judicial defence as enumerated by him has proved beyond the slightest doubt that this is political persecution, not a criminal trial, where the verdict is a foregone conclusion.

There is no better testimony to that than the shock with which the world greeted the acquittal of Anwar at the High Court three years ago, as the proceedings of the trial had been so manifestly unfair and vindictive that no one expected an acquittal.

Alibi

That the prosecutor and the judges did not let go the slightest opportunity to build up the perception of guilt against Anwar is seen in its dishonest inference that Anwar didn't call alibi witnesses because they couldn't have substantiated his story of innocence.

This is double injustice to Anwar, because it was the powers that be that had put a spoke to his alibi defence. Anwar said in his statement in dock: "My alibi witnesses made known to the prosecution were in fact included in the prosecution list of witnesses, which was not supplied to my lawyers. They were defence alibi witnesses. I am informed this is the first time this has been done."

Anwar also gave the example of the owner of the condo where the alleged incidence took place, Hasanuddin Abd Hamid, who was harassed by the police for a total of 30 hours where his statements were video recorded. Another alibi witness, Fitria Dipan the maid, ironically offered by the prosecution, couldn't even be traced.

Prosecution + defence v defence

A trial judge is supposed to be an umpire, taking a neutral position to weigh without prejudice the merits and demerits of facts and legal arguments presented by the prosecutor and the defence and deliver his decision at the end of the hearing strictly according to facts and relevant law, without fear or favour.

But this is distinctively not the case in the present trial. Reading through the Judgment, one can't help but get the impression that there is an invisible dividing line separating the prosecutor and judges on one side and the defence on the other. With due respect, it looks like a joint effort to fix the respondent, and let the facts and law be damned.

In fact, the outcome of this trial was already self-evident when Anwar's request to replace specially invited lead prosecutor Shafee was rejected all the way to the highest court. Being an Umno lawyer and Prime Minister Datuk Seri Najib Razak's confidante, Shafee's role as prosecutor was to part of a political agenda.

Now that Anwar has appealed to the Federal Court, the nation will hold its breath at what will happen next.

Will it be another saving grace for the judiciary, or will it be another plunge that will trigger off a new phase of bruising conflict that will cause much suffering, but with the prospect of opening up a new era for the nation? – April 22, 2014.

* Kim Quek reads The Malaysian Insider.

* This is the personal opinion of the writer or publication and does not necessarily represent the views of The Malaysian Insider.

By Nur Jazlan,

Pertama sekali saya ingin mengucapkan takziah kepada keluarga mendiang bekas Pengerusi DAP, Ahli Parlimen Bukit Gelugor dan peguam terkenal, mendiang Karpal Singh terutamanya anak mendiang, Gobind Singh Deo yang juga Ahli Parlimen Puchong, atas kematian bapanya dalam kemalangan tragis pada awal pagi Jumaat lalu.

Sesungguhnya, mungkin ini kali pertama majlis pengebumian seorang tokoh pembangkang menerima penghormatan tertinggi daripada sebuah negeri dan kematian mendiang Karpal Singh diratapi bukan sahaja ahli keluarganya, rakan-rakan atau ahli DAP tetapi juga seluruh rakyat Malaysia.

Walaupun tidak mengenali mendiang Karpal Singh yang turut dikenali dengan gelaran 'Tiger of Jelutong' secara peribadi, tetapi saya amat kagum dengan kesungguhan serta perjuangan beliau yang tidak berbelah bahagi dalam sistem perundangan negara serta kancah politik negara.

Secara tidak langsung, perjuangan politik mendiang Karpal Singh selama 40 tahun lebih kurang sama dengan arwah ayahanda saya, Tan Sri Mohamed Rahmat atau Tok Mat dan mereka juga adalah rakan ketika sama-sama menjadi Ahli Dewan Rakyat bermula sekitar tahun 70-an.

Jika ada yang beranggapan bahawa dengan pemergian mendiang Karpal Singh buat selama-lamanya akan mengubah hala tuju perjuangan parti DAP, saya tidak yakin ia akan berlaku memandangkan parti itu berada dalam 'kelasnya' tersendiri dalam kancah politik negara yang begitu mencabar.

Tambahan pula, dua anak mendiang iaitu Gobind dan Jagdeep adalah wakil rakyat DAP dan mempunyai kedudukan serta pengaruh dalam DAP sekaligus sudah pasti meneruskan legasi mendiang Karpal Singh.

Satu perkara yang paling menarik dalam perjuangan politik mendiang Karpal Singh sepanjang pemerhatian saya, adalah semangatnya yang tidak pernah memperjuangkan isu membabitkan sesuatu kaum secara khusus.

Sebaliknya, beliau sentiasa konsisten dengan perjuangan ke arah Malaysia yang lebih baik dan benar-benar bersikap sebagai seorang ahli pembangkang yang profesional dengan memberikan fakta serta hujah yang logik serta objektif berlandaskan apa yang termaktub dalam Perlembagaan Negara.

Kepetahan mendiang Karpal Singh di mahkamah langsung tidak tergugat ketika dalam sesi Dewan Rakyat dengan jelas mengkritik segala dasar kerajaan, terutama sekali yang berkaitan dengan undang-undang atau perkara yang dilihat membelakangkan undang-undang atau Perlembagaan Negara.

Disebabkan itu, walaupun berkerusi roda selepas terbabit dalam kemalangan jalan raya pada 2005, mendiang Karpal Singh terus menjadi idola, contoh serta ikutan perjuangan ahli-ahli Parlimen pembangkang yang muda dalam DAP yang terus gigih hadir ke Parlimen bagi memperjuangkan nasib rakyat.

Perjuangan inilah, yang bagi saya menyebabkan mendiang Karpal Singh sentiasa dihormati kawan serta lawan dan buktinya lebih 5,000 rakyat hadir bersama-sama memberikan penghormatan terakhir kepada mendiang Ahad lalu.

Status serta perjuangan beliau ini juga menyebabkan kerajaan DAP Pulau Pinang memberikan mendiang pengebumian negeri serta menamakan sebatang jalan di negeri itu dengan nama Karpal Singh bagi menghargai jasa serta pengorbanan mendiang.

Agaknya adakah perkara sama yang akan dilakukan kerajaan Barisan Nasional (BN) kepada pemimpin MIC yang ada sekarang, sebagaimana penghormatan yang diterima mendiang Karpal Singh terutama sekali jasa serta pengorbanannya terhadap kaum India.

Selain perjuangan mendiang yang sentiasa konsisten kepada 'Malaysian Malaysia' dan kesamarataan kaum berlandaskan Perlembangaan Negara, siapa yang boleh menafikan bahawa kepopularitian beliau juga menyebabkan banyak peguam-peguam menceburi bidang politik secara serius.

Secara tiba-tiba, begitu ramai peguam menjadi ahli pembangkang, sama ada daripada parti DAP atau PKR dan kebanyakan mereka ini, pada awalnya menggunakan landasan sebagai ahli jawatankuasa Majlis Peguam sebagai asas untuk berpolitik.

Sebenarnya, jika dikaji semula sejarah Majlis Peguam ini yang ditubuhkan melalui Akta Profesion Undang-Undang 1976, ramai Jawatankuasa dan Presiden yang dilantik begitu kritikal terhadap kerajaan.

Disebabkan ketidakpuasan hati kepada kerajaan yang dikatakan banyak membelakangkan undang-undang serta Perlembagaan Negara dalam menggubal dasar atau menjalankan pentadbiran negara, mereka-mereka (peguam) mengambil keputusan menceburi bidang politik secara serius dengan menjadi ahli politik sebelum dipilih rakyat menjadi Ahli Dewan Undangan Negeri atau Ahli Parlimen.

Mungkin ramai tidak mengetahui bahawa sebenarnya, selain Majlis Peguam (Bar Council) terdapat sebuah lagi entiti yang lebih besar iaitu Badan Peguam Malaysia (Malaysian Bar).

Badan Peguam Malaysia ditubuhkan di bawah Seksyen 41 Akta Profesion Undang-undang 1976 dan wajib dianggotai oleh semua Peguam di Semenanjung Malaysia menurut Seksyen 43 Akta Profesion Undang-undang 1976, yang kini berjumlah lebih 15,000 orang.

Majlis Peguam pula ditubuhkan mengikut Seksyen 47 Akta Profesion Undang-undang 1976 dan hanya dianggotai oleh 36 orang ahli Badan Peguam yang dipilih secara pengundian menurut Seksyen 50 dan Seksyen 70 (7) Akta Profesion Undang-undang 1976.

Malah, menurut seksyen 64 (1) Akta Profesion Undang-undang 1976, Mesyuarat Agung Tahunan (AGM) Badan Peguam hendaklah diadakan oleh Majlis Peguam sebelum bulan April pada setiap tahun.

Manakala, korum untuk AGM itu adalah 500 orang sahaja daripada ahli Badan Peguam yang berdaftar mengikut Seksyen 64 (4) Akta Profesion Undang-undang 1976.

Badan Peguam Malaysia ini, secara tidak langsung boleh diibaratkan sebagai sebuah kereta tanpa pemandu kerana Majlis Peguam bertindak sebagai pemandunya dan sebenarnya, destinasi 'kereta' ditetapkan di dalam Akta Profesion Undang-undang 1976, namun bergantunglah kepada pemandu kereta tersebut sama ada untuk mengikut arahan destinasi ataupun menyimpang daripada destinasi yang ditetapkan dalam akta.

'Kesilapan' kerajaan ketika menggubal undang-undang ini pada 1976, dengan bertujuan untuk mengekang pembabitan peguam dalam politik dan memberikan kelebihan kepada peguam Melayu tidak mencapai matlamat dan mempunyai impak negatif apabila lebih ramai peguam terbabit secara langsung dalam politik.

Mungkin disebabkan 'lupa' untuk meletakkan syarat bahawa Majlis Peguam perlu menjadi sebuah badan yang benar-benar bebas kini, badan berkenaan dilihat begitu pro-pembangkang dengan begitu lantang mengkritik kerajaan tetapi amat jarang sekali memuji dasar-dasar kerajaan.

Lebih memelikkan pada waktu kini, peguam-peguam ini, yang majoritinya berbangsa Melayu dilihat semakin menjauhi Umno malah, lebih gemar untuk mengambil pendirian yang neutral atau lebih pro-pembangkang.

Jika diperhatikan dalam tempoh dua penggal Pilihanraya Umum (PRU) lalu, berapa ramai peguam muda yang terpilih sebagai calon untuk Umno atau Barisan Nasional (BN) berbanding di pihak pembangkang.

Atas sebab itu, ramai pihak kini melabelkan Umno dan BN sebagai sebuah parti yang tidak lagi diminati oleh golongan profesional bukan sahaja di kalangan peguam, malahan doktor atau akauntan.

Kemungkinan ini juga yang menyebabkan Umno dan BN semakin hilang genggaman di kawasan bandar serta pinggir bandar apabila pembangkang menampilkan calon-calon muda yang profesional.

Kemunculan calon muda serta profesional ini, selari serta sesuai dengan citarasa masyarakat bandar serta pinggir bandar yang terdiri daripada golongan menengah rendah, atas serta elit yang majoritinya mendapat pendidikan sekurang-kurangnya bertaraf diploma.

Malah, perjuangan mendiang Karpal Singh seorang peguam terkenal juga mula dihayati pengundi di kawasan bandar serta pinggir bandar yang amat kritikal terhadap isu dalam kerajaan yang membabitkan penyelewengan kuasa, rasuah serta kronisme.

Semangat perjuangan mendiang Karpal Singh yang tidak pernah berubah sejak 40 tahun lalu inilah, yang menjadi semakin relevan dalam masyarakat Malaysia pada masa kini menyebabkan Umno serta BN semakin hilang kuasa di kawasan kritikal ini.

Sememangnya, dalam PRU14 lalu, Umno dan BN ada menampilkan calon muda tetapi bilangan profesional amat kurang berbanding daripada mereka yang ditawarkan parti pembangkang sebagai calon untuk rakyat.

Ramai pemimpin muda pembangkang kini menjadikan mendiang Karpal Singh sebagai idola politik mereka dan akan menjadikan diri mereka sebagai idola untuk pemimpin masa depan, tetapi keadaan itu jelas berbeza dalam Umno apabila kita jelas ketandusan golongan pemimpin muda untuk dijadikan idola bagi menjadi 'penarik' kepada golongan muda profesional di kawasan bandar dan luar bandar.

Saya turut melihat trend calon muda Umno dan BN yang terdiri daripada ahli perniagaan kurang 'digemari' pengundi di kawasan bandar dan pinggir bandar kerana mereka merasakan calon-calon ini mendapat sumber kekayaan daripada parti serta kerajaan dan tidak benar-benar 'bersih' selain mudah untuk pembangkang memutarbelitkan isu berkaitan diri calon-calon ini.

Pembangkang akan terus menarik golongan muda profesional yang imej mereka ditampilkan dengan penuh idealisme serta mempunyai latar belakang 'bersih', tetapi dalam Umno proses 'regeneration' ini dengan pemimpin masa depan yang berkualiti dan bersih akan terbantut.

Justeru, saya bimbang jika jika sesuatu tidak dilakukan Umno dan BN untuk berubah dengan mencari golongan profesional muda terdiri daripada peguam, doktor atau akauntan yang sanggup ke depan mempertahankan parti dan kerajaan secara terang-terangan untuk berhadapan dengan pemimpin muda profesional daripada pembangkang, masyarakat akan semakin menjauhi parti sekaligus padah akan jelas menanti dalam PRU 14 empat tahun lagi. – 22 April, 2014.

*Artikel ini diambil daripada blog www.nurjazlan.net

* Ini adalah pendapat peribadi penulis dan tidak semestinya mewakili pandangan The Malaysian Insider.