Wednesday, September 3, 2014
BAGHDAD, IRAQ (
BosNewsLife
)-- Islamic State (IS) militants in Iraq are reportedly giving detained Christian, Yazidi and Turkoman women and girls a difficult choice: Convert to their strict interpretation of Islam or face daily rape.
The female detainees in Mosul's Badush prison are among those who were unable to join as many as 200,000 Christians and others fleeing IS fighters, who have declared an Islamic "caliphate" in an area straddling Iraq and Syria.
United Nations officials in Iraq said at least some 1,500 people from religious minorities, including Christians, may have been forced into sexual slavery.
IS militants have been gang-raping some and selling others as brides for as low as $25, according to investigators. Many victims are reportedly as young as 14 years old, survivors said.
A captive woman told reporters that her daughter, who managed to hide a mobile phone in the prison, spoke of horrific experiences, including being raped by dozens of men over a few hours.
CHILDREN BORN
Other women said children born out of rape were ripped from their mothers' arms, and never seen again.
BosNewsLife was not immediately able to confirm these reports independently, but IS militants have boosted about violence, posting videos of fighters executing people on a massive scale.
Additionally, at least four IS hostages in Syria were reportedly waterboarded during their captivity. Waterboarding is an interrogation technique in which water is poured over a cloth covering the subject's face, creating the sensation of drowning.
Among those waterboarded was James Foley, the young American journalist who was beheaded by the terror group for ongoing U.S. airstrikes against the militants.
Amid the crisis, churches in Iraq's Kurdistan region are helping refugee, including in the city of Erbil. "We wanted to show those people that we don't care if they are Christians, Yazidis or Muslims," Majeed Mohammed, a pastor in the area, explained in published remarks.
"They are human beings and they have been kicked out of their homes by ISIS. We want to show them that as Christians we love them...."
CHURCHES HELP
The long-term fate of the vast number of refugees remains one of the major questions in this urgent humanitarian crisis, warned Voice Of the Martyrs Canada (VOMC), an advocacy group supporting persecuted Christians.
"Praise God for Pastor Majeed and other 'Good Samaritans' like him who are opening up their churches, homes and hearts to the overwhelming number of refugees in dire need," VOMC said in a statement to BosNewsLife.
VOMC added that it urged its supporters to pray "for continued provision so shelter and
basic necessities can be made available" to those in their care.
"May this fine example of love and service greatly encourage the faith of believers and serve as a bold witness to those who do not yet know Jesus Christ in a personal way," the group said.
It also prayed for a "long-term solutions for the thousands of refugees, so they may have
the hope of a brighter future"" and that "the hearts of the militants be touched as well, bringing an end to the atrocious violence in Iraq."
Tuesday, September 2, 2014
By Richard Allen Greene and Inez Torre, CNN
At least two Americans have been killed in Syria, and the video of James Foley's beheading is narrated by a man who seems to have a London accent, raising fears about the number of American and British Muslims going to fight in Syria. But do the U.S. and UK have the greatest problems? CNN crunched the numbers from 25 countries that have given official estimates of how many have gone to fight.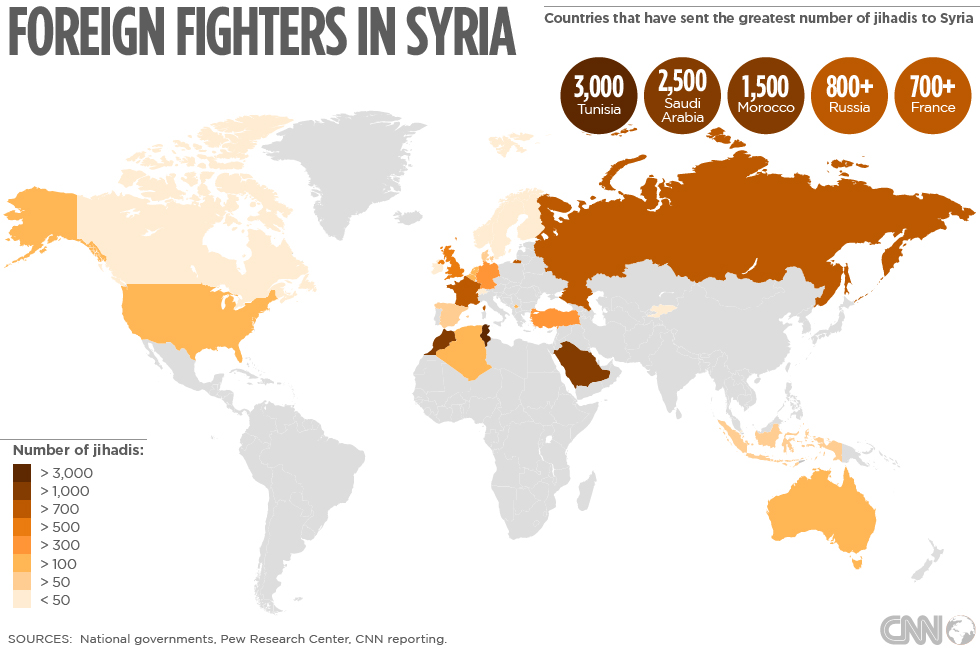 More than 11,000 people have traveled from abroad to fight in Syria, officials suggest, although some have gone back home again. They ally themselves with different factions, and sometimes change loyalties as groups merge, disband or change allegiances. Naturally, countries with bigger Muslim populations tend to send the largest number of fighters.
Viewing this on mobile? Click here to see a larger version of this map
.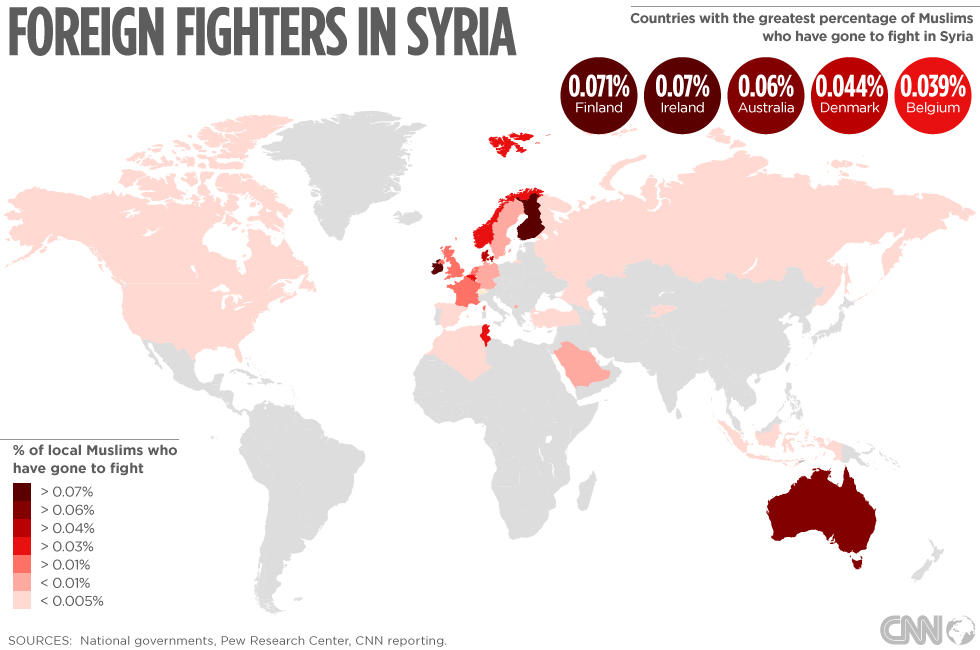 But some countries with relatively small Muslim populations have sent a disproportionately large number of jihadis. Finland and Ireland have the highest number of foreign fighters per capita -- nearly one per 1,400 Muslims living in those countries has gone to Syria.
Viewing this on mobile? Click here to see a larger version of this map
.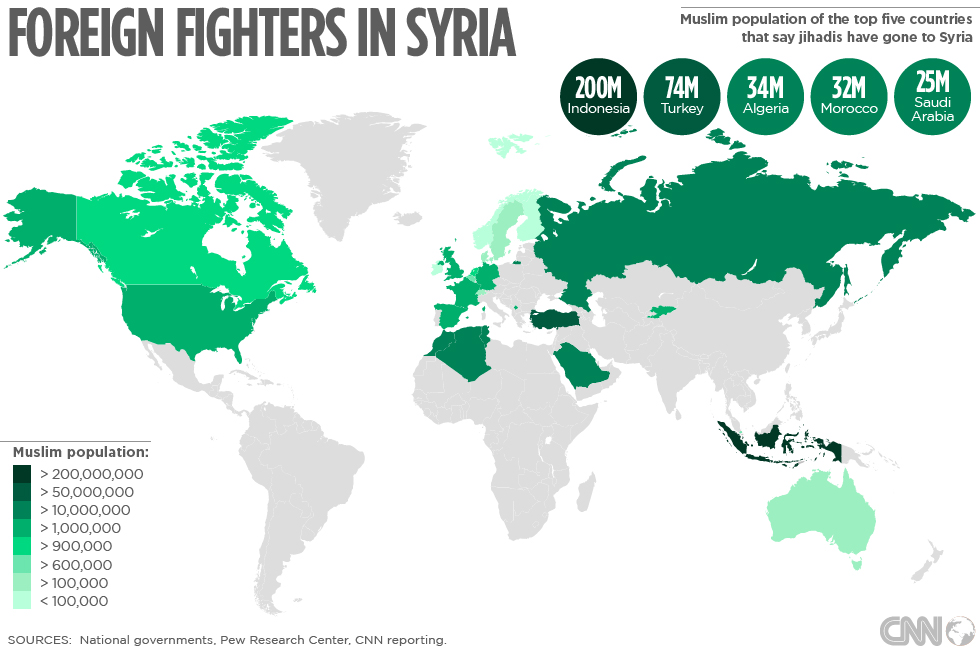 Indonesia has the world's largest Muslim population, but tiny numbers of fighters going to Syria. And even countries closer to the conflict such as Turkey, Algeria and Morocco have sent relatively few. (Pakistan, India and Bangladesh, which all have more Muslims than any country other than Indonesia, have not issued official estimates of how many of their citizens, if any, have gone to Syria.)
Viewing this on mobile? Click here to see a larger version of this map
.
All 25 countries in the study
Britain and France have comparable percentages of local Muslims going to fight in Syria -- just over one in 6,000 British Muslims and one in 6,666 French Muslims have gone to Syria, governments say. The figures in the Netherlands are not far off, around one in 7,700. American Muslims are going to Syria at a much lower rate, closer to one in 25,000.
Viewing this on mobile? Click here to see a larger version of this table
.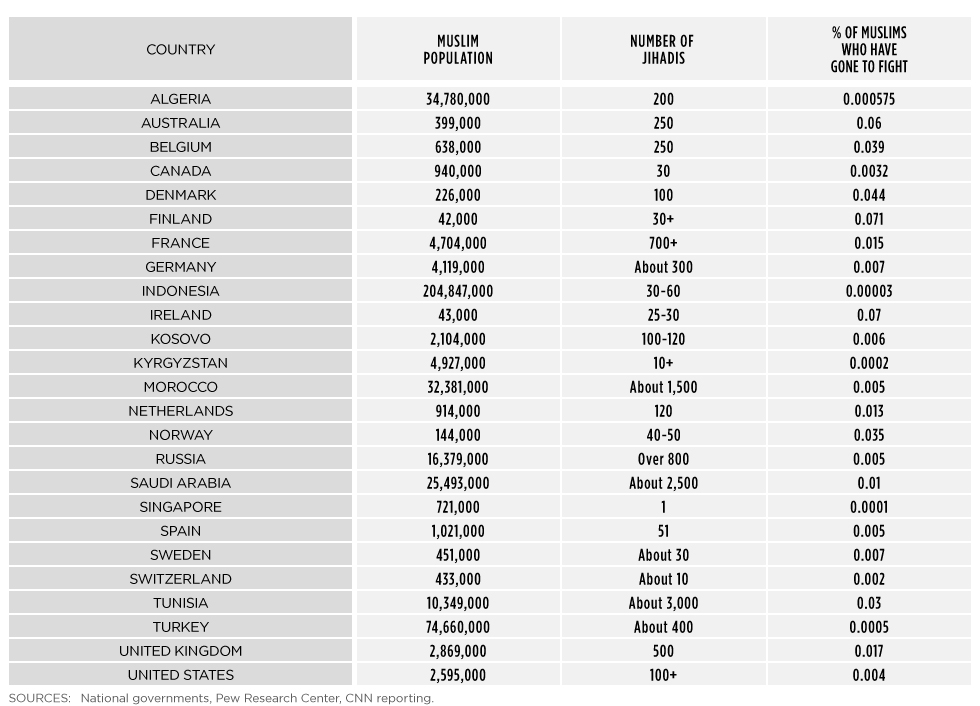 By WTHR Channel 13
COLUMBUS, Ind. - Columbus Police said they've never had anything like it - three churches vandalized in the same night.
Someone spray painted them on the outside. It's the words used, though, that have some people asking if this was more than a prank.
"It was just one word. It said 'Infidels!'" Father Doug Marcotte said of what was spray painted on Saint Bartholomew's Catholic Church in Columbus overnight Saturday.
Parishioners saw that, along with the word "Qur'an 3:151" on their way into mass Sunday morning.
"It's certainly not a warm and fuzzy verse. It talks about the infidels, their refuge being the fire," explained Father Marcotte.
Specifically, that passage of the Qur'an reads: "We will cast terror into the hearts of those who disbelieve for what they have associated with Allah of which He had not sent down [any] authority. And their refuge will be the Fire, and wretched is the residence of the wrongdoers."
Saint Bartholomew's wasn't the only Columbus church vandalized.
"It's really bizarre and the fact that they hit two other Christian Churches. It's not like we're all in a line. So why did they pick the three of us," asked Father Marcotte.
Outside East Columbus Christian Church and Lakeview Church of Christ, members there found the same kind of graffiti Sunday morning.
"Is there somebody that really believes this that we're all infidels so they felt the need to write it all over our church? " asked Father Marcote. "Is this some sort of nasty prank? Is this someone that's trying to incite people against Muslims? I mean I don't know," he added.
Columbus Police said they're looking at surveillance video to help figure it out.
Until they do though, parishioners at Saint Bartholomew's have been unsettled by the defacing of their church, at the very least.
"There's a lot of bad stuff being done in the name of Allah and so when people see this happening in Columbus, whether that was truly the person's intent or there's something else going on, It makes people nervous. It makes people upset. It makes them scared," said Father Marcotte.
Columbus police would not comment on whether they had alerted federal authorities to the vandalism because of its nature. The priests at Saint Bartholomew's said they've been contacted by members of the local Muslim community in Columbus who have condemned the vandalism and offered to help clean it up.
Anyone with information is asked to call police.
Pope Francis is believed to be one of the top terror targets for the ISIS. Following the reports, Italy and the Vatican have beefed up the security of his holiness. However, these threats are being downplayed by the Vatican, and there are some interesting justifications to the same.
Pope Francis is against any kind of violence, and given the fact that ISIS is beheading Christians, the Pope condemned their actions recently. Having just denounced their actions, Pope Francis automatically made it to the list of ISIS. As all terrorists love to keep a "bucket list" of high-profile personalities to threaten, Pope Francis qualified for inclusion way before he even chose to make his views about the terror organization clear.
Italian media agency
Il Tempo
claims that Francis has been singled out as "the greatest exponent of the Christian religion," and consequently a "bearer of false truth." However, the Vatican
feels
that the ISIS won't dare attack the Pope. It strongly believes that the Pope isn't a target for the ISIS.
Why isn't the Vatican concerned? Interestingly, the Vatican takes all threats against the Pope very seriously. Moreover, as
The Inquisitr
had
reported
, about 80 Italians have been recruited by the ISIS and are fighting for the terrorist organization. The ISIS has certainly proven that it is an international terrorist organization, and will continue its barbaric acts even against people who are Muslims, but not of their particular sect.
Despite these serious concerns, the Pope and the Vatican aren't the top priorities for the Islamists,
reported
Newsweek
correspondent Nicholas Farrell.
"There are fewer checks on terrorists in Italy and they can circulate more freely. Islamists regard Italy as a strategic place to launch attacks, not the main enemy like America or Britain"
Nonetheless, ISIS leader and self-proclaimed Caliph of the Islamic State Abu Bakr al-Baghdadi has previously made a speech announcing the group's intention to "conquer Rome and own the world, if Allah wills."
Police have now released all 155 members of Penang's Voluntary Patrol Unit (PPS) as of 10.30pm tonight.

Earlier this evening, state welfare, caring society and environment committee chairman Phee Boon Poh was released together with a few of the PPS members who were arrested yesterday.

Now, only Seri Delima state assemblyman R.S.N. Rayer, who was arrested today, remains in police custody.

Phee, who walked out of the station looking tired, met with his family members and Penang Chief Minister Lim Guan Eng then broke down in tears as he was received by a large crowd outside the gates of the Northeast District police headquarters.

After being garlanded, Phee thanked his friends, supporters, Pakatan Rakyat party members and the media for giving him the encouragement to stay strong.

"If I was taken for the betterment of Penang, then I am willing to make this sacrifice," he said in between tears.

Earlier today, Penang police chief Datuk Abdul Rahim Hanafi announced their remand for a day till tomorrow to facilitate investigations.

He said police would carry out a crackdown on the rest of PPS members.

"We remanded Phee and the 155 members, aged between 18 and 67, till tomorrow under Section 43 of the Societies Act 1966. Seven of them are women.

"PPS is an illegal organisation, so we will arrest all its members. There is no deadline. Therefore, I urge the members to surrender themselves to the police.

Rahim said initial investigations showed 11 of the detained members possessed criminal records. Four of them tested positive for drugs.

He said despite the fact that only one person had links with secret society by virtue of being a former Emergency (Public Order and Crime Prevention) Ordinance 1969 (EO) detainee, the police would go on with the crackdown.

Rahim revealed the PPS members who possessed criminal records came under Section 304, 379, 380, and 392 of the Penal Code, respectively, and also various drugs offences, and customs laws.

"Some of them have records for attempted murder, theft, break-ins and robbery. The suspect who was a former EO detainee was convicted for a drug offence previously," he said.

He added that police seized 153 purple PPS T-shirts and 154 maroon berets bearing the Penang state emblem that formed the group's uniform, a PPS placard and flag, a Jalur Gemilang, a Penang flag, walkie-talkies and membership cards.

He said the detainees comprised pensioners, civil servants, those who were self-employed and students.

While reiterating that 14 men and seven women were released on police bail early this morning, Rahim said the police had information on 30% of the members.

When asked whether the state government had presented a list of members to the police to be vetted for criminal records, he replied in the negative.

He also denied claims that police and PPS had worked together to patrol the streets within the state.

"I do not want to get involved in the challenges that are being thrown about on this matter.

"We are looking at this issue purely on the legal aspect and not on political insight," he said, when asked to comment on the exchanges between Inspector-General of Police Tan Sri Khalid Abu Bakar who announced PPS as illegal and Lim's continous defence of the unit. – September 1, 2014.
"Why would any sane investor 'invest' in a company that has lost a total of RM4.3 billion for the past three years?" This was the question raised by Perak DAP economic development bureau chief Chong Zhemin in a reported statement on the subject of the government bailout of MAS.
Well, this makes sense. But the trend amongst politicians from both sides of the divide is the same. Take for example the goods and services tax (GST). While we hear pockets of criticism on GST, none of the parties in Pakatan have come to a concrete conclusion that they would abolish the GST should they come into power.
But the insensitive middle-class elites who are indoctrinated with the 'ubah' (change) slogan would conveniently forego any thoughts on serious matters pertaining to socio-economic imbalance as it really does not matter to them as long as political enhancement and rhetoric is achieved.
Let's take another example. The Selangor saga. The elites seemed to have forgotten the root cause of the current saga. The Kajang Move was a breach of trust placed by the people on the assemblyperson who wa 'forced' to resign to pave the way for a certain politician to become the MB.
Now let us come back to the statement of Chong Zhemin. He further criticised the mooted MAS Act to facilitate staff transfer and review of employment contracts, bypassing the bankruptcy procedure.
He raised an interesting point and let me reproduce what is quoted.
Chong said the enactment of a MAS Act would change the legal status of employment for MAS staff, which could be unfair to them.
"The MAS Act is against natural rights and unjust as it could nullify all current employment contracts with MAS," he said.
Interestingly, Anwar Ibrahim, too, came up with a statement. He had this to say: "Did you think what's the future of the 6,000 affected families? Can you reflect on that for one second. Is it their fault? Were they lazy? Were they not competent? Whose fault is this?"
Now the issues raised are valid. Both Chong and Anwar speak on the natural rights of MAS workers and the unjust associated with the new deal. I agree. But have you ever wondered where was natural rights and social justice when 800,000 estate workers were displaced from the plantations and the Indian Malaysia community were left stranded, their suffering unimaginable, and worst still this fact is not known to the Malaysian public during their displacement process since the 70s.
Anwar was the agriculture minister in 1984 when the estate displacement was taking place.
Let us for a moment ponder on the plight of these 800,000 mostly Indian Malaysian displaced estate workers from the 1970s.
They were employed in the plantation for four or five generations. They made the estates their permanent home. They were made to believe so by their bosses beginning from the white man right till the last employers.
Towards the 'tail end of their services' (I mean before they are evicted), their bosses who are the mighty and rich would play a game just like how it is now proposed on our national carrier MAS. Their bosses would sell the plantation to a new owner ie one of their sister company. Upon the sale of plantation, new contracts of employment would be drawn out with the estate workers who had loyally served their employers and country for almost 200 years.
Their four to five generation service to the companies and nation are lost permanently. These illiterate estate workers depend on the mandors in the estates who act as their chief or spokesperson. Many of these mandors are also the estate MIC chiefs and the workers union heads.
'Workers have lost their rights on the land'
The illiterate workers do not realise that they have lost their rights on the land they and their forefathers toiled and made the British and subsequent Umno masters (Guthrie, IOI, Kulim (M) Bhd and Sime, for example) and towkays (Berjaya Group, IJM, Hap Seng, etc) immeasurably rich.
Finally the sister company sells the plantations to another (most likely) of their sister companies or crony entities which would be a property development company (eg Sime Properties Sdn Bhd). Then the sister property company would send their henchmen to evict the workers out of the estates with meagre compensation.
In recent times the workers have obtained 'very good compensation' for the sacrifices they as well as their forefathers have made. During one of my negotiations on the Bukit Jalil estate, the Federal Territories Minister Tengku Adnan Tengku Mansor openly told me not long ago that the practice was to pay not more than RM1,500.00 compensation for each family.
So with RM1500 the estate workers are supposed to be thankful for the compensation successfully negotiated by the mandors and union leaders, whereby thereafter they are supposed to utilise these 'huge sums' for relocation into new housing Tamans, pay their own deposit for a new house they could 'comfortably' purchase, 'retrain themselves' in new skills so that they can seek new employment opportunities in the urban areas they would be moving into, and pay for a psychiatrist should they need to recover from their trauma.
Eight hundred thousand plantation workers have been ejected this way forcibly either through government acquisition or private, yet the selfish elite middle class community as well as politicians from both sides of the political divide of Malaysia do not see that as human rights violations.
The community becomes fragmented, lose their jobs, falls further below the poverty line, they are the new urban underclass, they build new squatter houses to survive the effect of displacement, they build new temples and shrines on trees as a mode to keep their hope in this nasty world alive and yet bear the brunt of accusations by the middle class elites as "Oh Indians ah - they are always like that. Just give them a tree and they start a temple".
A populist cause
The middle class and politicians like Chong Zhemin will speak up for MAS workers' rights because it is a populist cause. It catches the attention of the middle class media. It catches the attention of the pseudo-human rightists. That class of the community understands human rights as they prefer to perceive it.
The plight of the poor and defenseless estate workers were never an issue. They are the lowest strata of the community anyway. Who cares about them? They are sub humans aren't they? They are not politically worth a mention, until the election bell rings. Oh, it's easy, maa. Just get our henchmen in our own parties to throw crumbs and they would take it.
If the crumbs are thrown by the Pakatan guys it's okay because its termed as assistance. But if comes from BN then the demonising and stereotyping begins. "Indians deserve it. They are stupid. They never learn," and the list goes on.
Human beings are strange creatures. They choose not to see what they do not wish to see. They choose to understand truth according to what suits them. They do not see the plight of the sinking estate workers who are struggling to survive in the deep ocean. To the poor, any help would do, doesn't matter if it comes from the perceived devil of the elite middle class.
Many of these ex-estate workers succumb to the influence of urbanisation and out of no choice join the underworld for survival. They would eventually be shot dead by the police in the name of wiping out crime and the middle class and elites would hail the police for doing a good job.
For those of us in Persatuan Hindraf Malaysia who speak up for these community are termed racist, extremist, selfish, not seeing the larger agenda, etc. When we signed a memorandum of understanding (MOU) with the government to seek permanent and comprehensive solutions for the benefit of this forgotten community, we were accused of treachery.
I for one would say the MOU was the underclass Indian community's Bill of Rights. And I make no apology for saying this or for entering into the MOU with the government. We in Persatuan Hindraf Malaysia need not be politically correct. We just need to do what is right. We are not concerned with whom we work with as long as we can ensure a permanent solution to the community.
We the Malaysian Indian estate workers and all those descendants of indenture and contract labourers are no different than the black Americans who were once degraded as Negros. I see us as no more than the once black American Negros who were exploited and their rights denied.
The Hindraf neo-democratic revolution would continue to evolve to bring meaningful changes to the socio-economic position of Indian Malaysians.
Selamat Hari Merdeka yang ke 57. (Happy 57th year independence anniversary.)
---
P WAYTHAMOORTY is president of Persatuan Hindraf Malaysia and is a former deputy minister in the PM's Department.
Inspector-General of Police Khalid Abu Bakar today brushed aside an apology from a Twitter user who had allegedly insulted him, insisting that offenders will be punished.
"There is no forgiveness for anyone who abuses the Internet media to issue insults, condemnation or incitement.
"Wait for @PDRMsia's action," Khalid, who uses the twitter handle @KBAB51, said in a posting this evening.
Earlier today, Twitter user Viktor Wong had apologised to Khalid for insults hurled at the top cop yesterday.
"Hello both @PDRMsia @KBAB51
,
I am retracting the suggestion on the bastardisation and apologise to you and all your members of the force," he said.
Yesterday, Wong, in an apparent reaction to the mass arrests in Penang, called Khalid "ruthless" and likened him to Heinrich Himmler, a leading military commander of the Nazi Party.
He also said that it was a "bastardisation" of the police force.
Himmler is said to have overseen the murder of six million Jews during the Holocaust.
Shortly after the apparent insulting post, Khalid produced a photograph of the comment and instructed his officers to
track down
Wong and act against him, in a Twitter posting.
He also asked for action against other Twitter users who called him a "BN dog".
Immediately after, the police through its official Facebook site acknowledged Khalid's message and said it was in the midst of taking action.
Selangor ruler Sultan Sharafuddin Idris Shah has to consent to the appointment of Dr Wan Azizah Wan Ismail as the menteri besar because he is bound by a document signed in 1992 by his father, the then Selangor sultan.
Constitutional expert Abdul Aziz Bari said today the Declaration of Constitutional Principles, signed by six sultans, agrees that rulers will follow government advice, among other things.
This means, Aziz (
left
) said, the current sultan "may not" be able to insist on more names to be submitted as candidates for Selangor menteri besar.
"The content binds the rulers until today. It has no legal effect by the document itself but morally, it would be embarrassing for the rulers to ignore it," he said.
"So, in Selangor, the sultan has to appoint (Wan Azizah). Asking for more names, let alone refusing to appoint her, will go against the 1992 declaration and more importantly, the constitution itself."
Aziz said the document was formulated during Umno's tussle with the royalty in the early 1990s.
He said Umno at that time had friction with the Kelantan royal household as it blamed the royalty for having a hand in its defeat in Kelantan in 1990.
An undertaking to abide by constitution
"The declaration was the result of negotiations between the rulers - led by the late Sultan Azlah Shah and Umno, led by Anwar Ibrahim, who was then an Umno vice-president.
"It was an undertaking, an affirmation by those six rulers to abide by the constitutional provisions pertaining to appointing the government, interference in state administration and business involvement, among others," he said.
Aziz said only the rulers of Kelantan, Kedah and Johor refused to sign the document but the other six rulers signed it.
He described the 1992 document as an attempt by Umno at that time to subdue the palace, which the party saw as a threat to its dominance.
However, Aziz said, the late Perak Sultan (
right
) did not entirely abide by the 1992 declaration during the state's constitutional crisis in 2009.
"Indeed, the late ruler went against what he himself wrote years before that; namely that dissolution was a matter of course that the sultan never refused," he said.
Sultan Azlan Shah had refused then Perak menteri besar Mohammad Nizar Jamaluddin's request to dissolve the state assembly after three Pakatan representatives sided with BN to give it the majority.
Police detain RSN Rayer to assist in investigations regarding PPS.
GEORGE TOWN: Seri Delima Assemblyman RSN Rayer has been detained to assist in the police investigation on the Penang Voluntary Patrol Unit (PPS) set up by the DAP-led state government.
Timur Laut district police chief ACP Mior Faridalatrash Wahid said Rayer, the PPS chairman for Seri Delima, was detained at 6pm when he came to the Timur Laut police headquarters.
Rayer came to the police station to handle the release of PPS members who were in remand, he said when contacted by Bernama here today.
Mior Faridalatrash said that as at 6.30pm today, the police had released 30 PPS members, including its chairman, Phee Boon Poh, who is also the State Welfare, Caring Society and Environment Committee chairman.
"We expect to release all the PPS members who were arrested yesterday by tonight," he added.
Yesterday, police arrested 156 PPS members, including Phee, for allegedly flouting regulations after it was found that the organisation was not registered with the Registrar of Societies (ROS).
Twenty-one of them were released later yesterday, and the remaining held in remand.
- BERNAMA